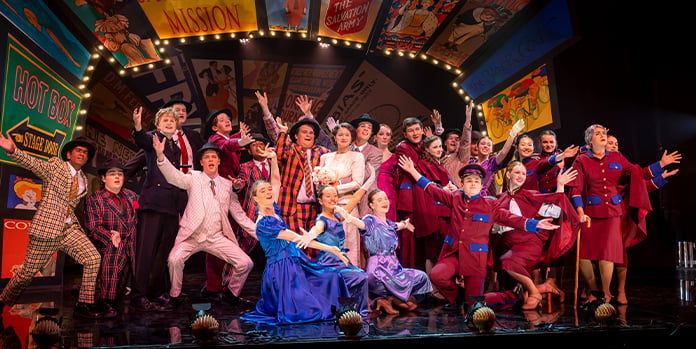 The band were pumping, the cast were jumping, and the audience were applauding. Everyone was revelling in the return of musical theatre to the stage of The Old Melburnians War Memorial Hall after a COVID-induced absence of two years.
And what better show than Guys and Dolls to bring back the joy and pizzazz of musical theatre, with Senior School students combining with their colleagues from Melbourne Girls Grammar for the August Production.
First staged on Broadway in 1950, this show is an oldie but a goodie, with a breadth of ensemble characters, lots of song and dance numbers, and a wise-cracking script to boot.
The story is as ridiculous as one could hope for. A bunch of warm-hearted gamblers are looking for a place to host the "oldest established permanent floating crap game in New York". They find a spot in a Salvation Army meeting house which has been threatened with closure because, ironically, they cannot find enough sinners.
Jude Harrington made a very likeable gambler in Nathan Detroit, with great comic timing evincing devotion to his long-suffering fiancée Adelaide, together with his competing love of the dice. He got good support from sidekicks Ted Perton, Angus MacLaren and Ben Harris, as the quaintly named Nicely-Nicely Johnson, Benny Southstreet and Rusty Charlie respectively.
Hal Porter brought a mature understanding to his portrayal of Sky Masterson, the cynical high roller who learns that the biggest gamble of all is love. Will Russell provided a humorous counterpoint to the romance with his repeated dead-pan manifesto, "Let's play crap!"
Esther Nastri was excellent as Adelaide, with a cutesy voice that threatened any moment to turn into an air-raid siren, and Amaya Martinez-Doyle sang the role of Sarah with poise and confidence.
Head of Drama Mark Brady directed with typical energy, creating strongly defined characters and a sense of fun throughout. Director of Music, Philip Carmody, kept the band tight, with slick rhythm and punchy chords. Sprightly choreography and colourful costumes added to the attraction of the production.
Dr Martin Ball
Senior English Teacher