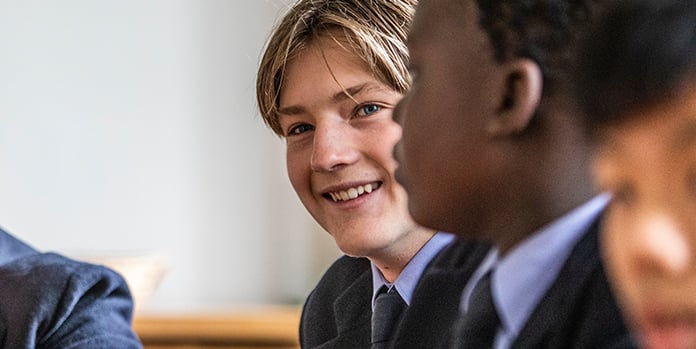 Melbourne Grammar School's boarding houses are remarkable for many reasons but, perhaps most of all, for the way they bring students with various life experiences together. In the common rooms of Creswick House, School House and Perry House, students from vastly different backgrounds come together every day, making even the smallest interaction an opportunity to learn more about other people.
"A place like the boarding house is a real-world example of how to act inclusively," says Anna-Louise Simpson, Head of Wadhurst. "We hear different opinions and experiences, and come to understand that not everyone needs to be the same."
Seeing the world from a new perspective
For Year 7 boarder Archer Gill, becoming part of the boarding community this year has been an opportunity to learn about completely different ways of living.
"I grew up in Hay, which is a small town where everyone knows each other," Archer says. "It's mainly a farming town, and my school was really small. At the boarding house, I've got friends from places like Hong Kong and Taiwan, where there's not much room and everyone's packed in. Getting to meet people who come from different places like this is one of the best things about boarding."
Year 8 boarder and Captain of Creswick House Archie Adkins agrees that the opportunities he has to learn new things have made his time in the boarding house that much richer.
"My hometown in NSW is not very culturally diverse," says Archie. "Living here at Melbourne Grammar makes me realise that we're all equal, and that we shouldn't just assume we know everything about someone based on where they grew up."
Celebrating what we have in common
For both Archer and Archie, living in a boarding house has also been an opportunity to share stories with others and to see the value in their own experiences.
"Sometimes I talk to the other boys about life on the farm, and how we do things," says Archer. "I think if I had only ever lived in a city, it'd be pretty cool to learn about another way of life."
"I started rugby before I was even at school," says Archie, who is currently playing with the Under 14 Melbourne Grammar team. "I think the Victorian boys do learn some things from me, like some of the techniques that used to get drilled into us. And my friends have got me into things like ping pong and basketball. It makes me realise that if we were all the same, we'd just end up doing the same things over and over."
While recognising our differences is important, Anna-Louise reflects that living alongside a diverse group of people also highlights what brings us together.
"The boarding house reflects the world in which we live," she says. "Most people aren't the same as us. But it also means we get to see our common humanity, because our students all come together around the same simple things: ball games, pizza, cupcakes, and hanging out with mates."