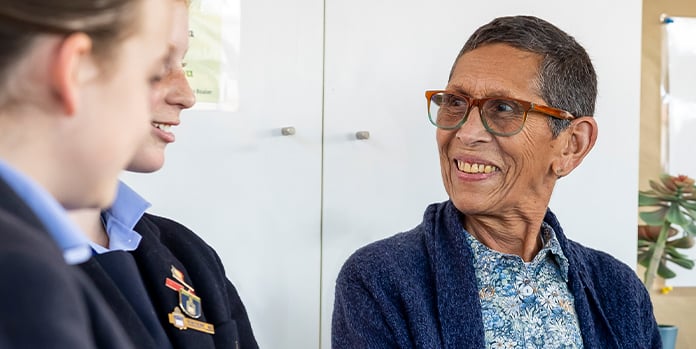 Caring for County is a central tenet for First Nations people. Now, Grimwade House students are learning about this philosophy from an Elder and Traditional Owner of the Boon Wurrung Country, Aunty Fay Muir.
The School's affiliation with Aunty Fay began in 2018 when a group of enterprising Year 5 students created a classroom toolkit focusing on the Boon Wurrung language.
"Aunty Fay gave generously of her time and shared her language with us. As a Boon Wurrung Elder, she was able to give us permission to use it at the school," explains Adrienne English, Enrichment Coordinator at Grimwade House. "We have continued to informally work with Aunty Fay over the years but have now formalised our relationship. She has been engaged as our First Nations Cultural Educator.
In this role, Aunty Fay spends time at Grimwade House teaching staff and students by "truth telling". She shares stories about her people and their history – the good and the bad – in age-appropriate ways.
"All of the people who 'live' on Boon Wurrung land, including everyone at Grimwade House, have a responsibility to take care of it," she says. "It is our joint legacy."
"It is also important to teach children about my language and culture," says Aunty Fay. "Our language describes our Country, so you can't learn about living in harmony with our land without it. It is all connected."
"The Boon Wurrung language has been a sleeping language for a long time," explains Aunty Fay. "When my parents were young, government policy dictated that it couldn't be spoken and it wasn't our tradition to write it down. Now that a lot of older Elders have passed on, aspects of our language has been lost with them." As a former senior linguist at the Victorian Aboriginal Corporation for Languages in Melbourne, Aunty Fay was instrumental in 'reawakening' the oral vernacular.
And when asked why Aunty Fay's work at Grimwade House so vital: "It is important to acknowledge and understand the people who cared for our land before us," says Mara, a Year 6 member of Grimwade's Reconciliation Action Plan team. Fellow Team member Sophie adds: "If we didn't, it is like we are forgetting them in a way."
"The most wonderful thing I have gained from working with Aunty Fay over the years is that our histories are not separate," says Adrienne. "We have a shared history and a shared future."