Boat houses are sometimes described as the beating heart of a rowing club. Beyond the utility of providing storage and training facilities, they serve to provide a place where camaraderie and kinship develops.
The history of our boat houses is a fine example of the generosity of spirit and support shown by Old Melburnians and parents throughout the best of times, and the worst.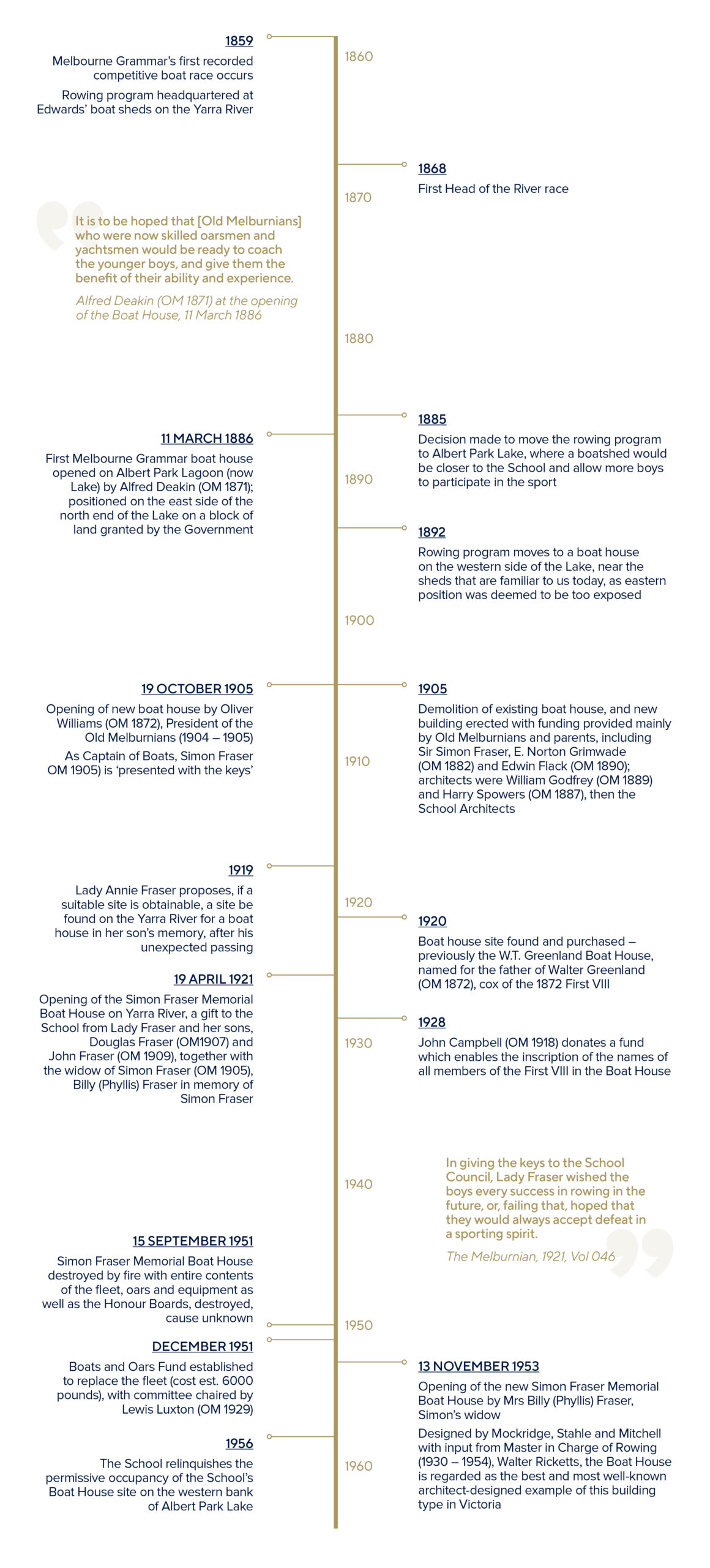 About Simon Fraser
The Simon Fraser Memorial Boat House is named for Simon Fraser (OM 1905), an Olympic rower who died from 'pneumonic influenza' on 11 May 1919, when he was just 32 years old.
His mother, Lady Annie Fraser, together with his brothers, Douglas Fraser (OM 1907) and John Fraser (OM 1909), and his widow, Billy (Phyllis) Fraser, gifted the building to Melbourne Grammar School in his memory.
He was the first of four Simon Frasers, each father to the next, to attend Melbourne Grammar. His son Simon John Fraser (OM 1933), grandson Simon Christopher Fraser (OM 1959) and great grandson Simon Richard Fraser (OM 1989) all attended the School after him. Had he lived longer, Simon Fraser would have been the uncle to Australia's 22nd Prime Minister, Malcolm Fraser (OM 1948).
Simon's connection to Melbourne Grammar began when he entered Wadhurst in 1987. He was a talented athlete excelling in athletics, cricket, football, and rowing when at the School. He was the 1905 Captain of Boats and a member of the premiership football, cricket, and athletics teams in his final year.
In 1912 he rowed for Australia at the Stockholm Olympic Games, and he also rowed in the famous race when Australia first won the Grand Challenge Cup at the 1912 Henley Royal Regatta.
Simon was an elite footballer, playing for Essendon FC (28 games) and University FC (2 games) in the Victorian Football League (VFL). Simon also played in one of the four founding teams of the Victorian Amateur Ice Hockey Association.
Simon graduated with a Bachelor of Mining Engineering from the University of Melbourne in 1911 and, on his return from England after his rowing tour, he became manager of his father's estate at Nyang.
Simon's father was Sir Simon Fraser, a prominent businessman, pastoralist, and politician who died less than three months after his son.