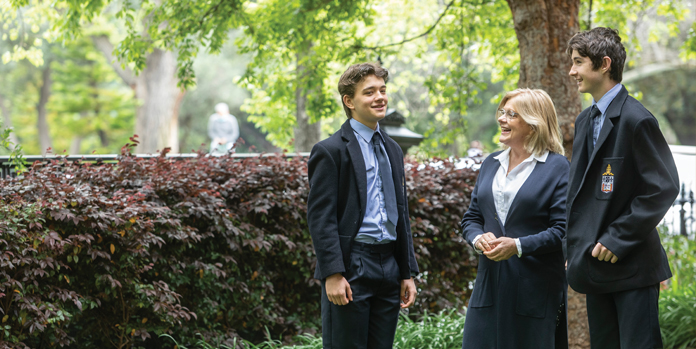 The most important thing I do is care for the boys."

Adrienne Richardson, Head of Creswick House
Adrienne Richardson is unequivocal when describing her new role. "I think I have the best job," says the recently appointed Head of Creswick House for boarders in Years 7 and 8. "I live in a beautiful part of the world, and work with boys who are challenging, fun, and developing all the time."
Adrienne has been part of the Melbourne Grammar community since 2004, and currently teaches French at Wadhurst alongside her boarding house responsibilities. While living and working at the Boarding House is very different to classroom teaching, Adrienne says this is a position she knew she would like to do.
"I have a different relationship with the boarders than I have with students in the classroom," Adrienne remarks. "It is something I have always I imagined I would enjoy, and I have found, in reality, I actually do.
"At the end of each day, when we all sit and chat about what has been happening, with my teaching experience and having had two quite disparate sons myself, I think I know where they are coming from," she says. "I feel it is a really positive experience for us all. Having them around just makes me smile."
"Above all, I want to guide my boarding students towards new experiences, to make sure they feel they belong, and to allow them to grow." Adrienne adds. "There are so many benefits associated with living in Melbourne and I want to open their eyes to the opportunities around them."
Living in the same building as the Year 7 and 8 boarders means Adrienne is accessible 24/7. Supporting students day-to-day, while also building strong connections with parents, are key aspects of her role.
"At the moment, with things changing all the time, communication with home and positivity are vital," she says. "I need to be a good listener, to care for the boys, and to make sure they're living in an environment that is conducive to their educational progress and personal development."
"I am invested in the boys' progress but, while I have an influence, at the end of the day I am not their parent," Adrienne acknowledges. "I remain guided by them."
Teaching "the perfect age"
Adrienne enjoys being in the classroom just as much. "If you teach through humour, you get everywhere," Adrienne says. "I try to make every day in the classroom engaging. For example, I use singing as a tool for learning the language. I want students to feel like learning is fun and that they want to be involved."
"Plus, I learn from them," she says. "There is a range of capabilities in every class. Some boys are operating at a very high level, so I am constantly researching and seeking out new ways to challenge them. This gives me an opportunity to gain new knowledge myself. There is always something that I can learn and pass onto them."
"Adolescents are at the perfect age," she adds. "They're highly motivated to do well in relation to their peers, and they're starting to develop independence and to think for themselves. And every day I laugh with them."