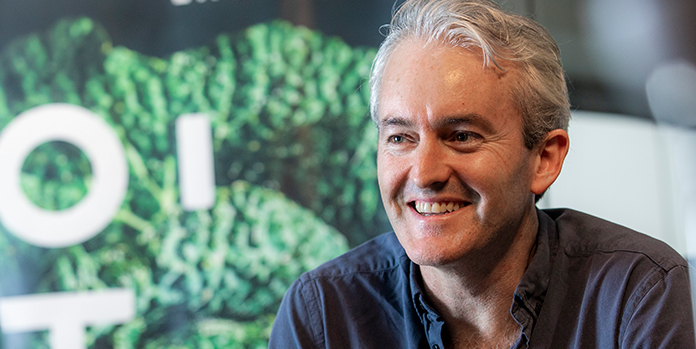 As Co-Founder and Co-Managing Director of a fast-growing tech company, Huw Birrell (OM 1997) understands the value of embracing every opportunity. Speaking at our new webinar series 'OM Journeys', Huw shared his thoughts on learning from others, and changing tack when the time comes.
"It's really quite a simple concept," Huw says when outlining his company, Fresho, a business-to-business platform that facilities fast, reliable supply orders for restaurants, cafes, and supermarkets. "Before we launched, most businesses were relying on late-night phone calls, voice messages, emails and even faxes. Using a platform like ours takes a huge amount of stress out of their working lives."
For Huw, the connections and opportunities gained through a Melbourne Grammar education set the foundation for his current success, but there were important detours along the way.
From day job to start-up
Perhaps surprisingly for a tech entrepreneur, Huw's early career had little to do with technology.
"Friends like to remind me that when mobile phones first came out, I dismissed them as a fad," Huw shares. "After university I joined Ernst & Young, then worked for a large energy company that sent me to work in South America. I had a lot of fun travelling in places like Chile, but I always knew I wanted to get into my own thing."
The right partner at the right moment
When Huw connected with fellow Old Melburnian and now his business partner, James Andronis (OM 1995), the idea for Fresho crystallised. "The turning point was meeting James," he says. "He had a really strong background in wholesale seafood and knew the food industry backwards, so once we joined forces, the problem – and the solution – became so clear."
For Huw, the strategy of the 'side hustle' appeals less than diving in completely. "I was lucky that I was between jobs when the Fresho opportunity came along, so I could give it 100% commitment," Huw says. "I think if you don't give something your full focus, it tends to just trickle along."
Reflecting on his time at Melbourne Grammar, Huw emphasises the connections he made with his classmates, many of whom are still part of his life today. "The support I received, and the opportunity to try new things, were what set me up for life," he said.
Huw's five tips for start-up success
Learn from others: Gather the right people around you, then listen.
Define your market: What's the problem you're going to solve?
Maintain a single focus: Don't spread yourself too thin.
Refine your story: Convincing investors requires a strong narrative.
Embrace mistakes: You have more time to experiment than you think.