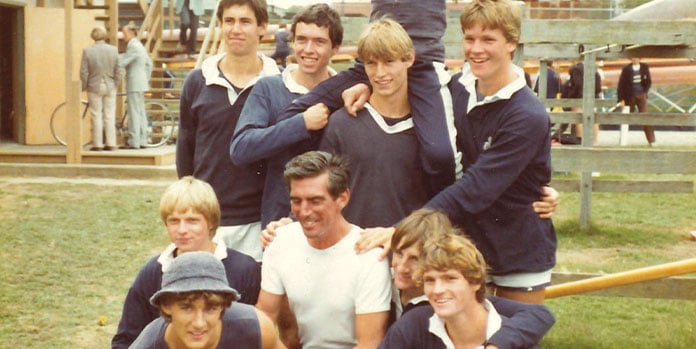 As a student, teacher, rowing coach, and supporter of our community, Tony Smith (OM 1949) has dedicated his life to Melbourne Grammar School. Whether demonstrating a classroom concept, or perfecting a rowing stroke, Tony says "it's all teaching, in one way or another".
Tony's connection to rowing began during his time as a student when he was part of the crew that won Head of the River in 1949. The next year, Tony left home to take the four-week journey by ship to England, where the next chapter of his life would begin.
"A friend of the family encouraged me to go to Oxford," Tony explains. "It was so different, and such a special place to be."
While at Oxford, Tony deepened his connection to rowing, joining the Merton College crew that went on to win Head of the River for the first time since the College's founding in 1264.
After returning to Australia, Tony found himself back at Melbourne Grammar— this time at the front of the classroom. "I taught anything from junior maths to Latin and general science," he says. At the end of his first year, Headmaster Brian Hone asked Tony to stay on a while longer. "I came on staff to fill in, and left 41 years later," Tony says.
As a Melbourne Grammar teacher, Tony pioneered the study of Geology at our School, and became Head of Bromby House, a role he held for over 20 years.
"As Housemaster, the most important aspect of my role was to look after the whole person," Tony says.
"I wanted Bromby boys to be honest, to have integrity, and to grow up to be decent people."

Tony Smith (OM 1949)
Nurturing generations of rowers to be their best
Over his many years in the classroom, Tony contributed to the education of hundreds of students. But it was in his role as a rowing coach where Tony left the most indelible mark of all. As coach of the First VIII, Tony led crews to claim five Heads of the River, four of which were won in successive years – in 1958, then 1979 – 1982.
"Tony was absolutely committed— he knew the crew didn't know their limitations, and near enough was not good enough," says Tom Griffith (OM 1982), a member of the 1981 First crew, which had their 40-year reunion this year.
"He was our mentor and hero," adds fellow 1981 First crew member Andrew Watson (OM 1981). "He means as much, if not more, to us all now as he did back then."
Today, the 'Tony Smith' boat named in his honour still takes to the water with our rowing crews on board. So, what is the coaching secret that brought Tony's crews their historic successes? His answer is as enigmatic as it is direct: "Put the blade in the water and lever the boat past the blade."
Tony continued coaching Year 9 crews into retirement, and served as the editor of the Melburnia Club newsletter for over 20 years. As a member of the Witherby Tower Society, his support of Melbourne Grammar School continues to the present day.
For information about including a gift to the School in your Will, please contact:
Carl Junot
Head of Development
+61 3 9865 7683
[email protected]