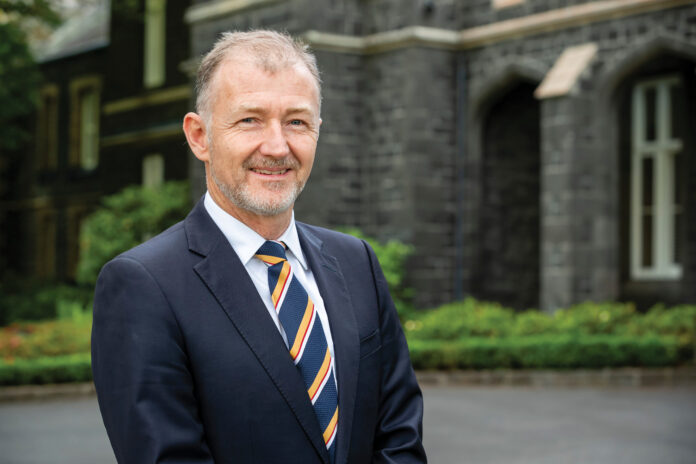 It has been a privilege for me to lead The Old Melburnians Society as President over the past two years. It has provided an opportunity to observe the school up close, including how it has navigated the extraordinary challenges of the COVID-19 pandemic.
It should be a great source of pride to all Old Melburnians that Melbourne Grammar School has been able to adapt to the pandemic environment, and despite the constraints, the school has delivered a world class standard of education. I commend the Headmaster and staff for their dedication over the past two years.
As I approach the end of my term as President it has caused me to reflect on what it means to be an Old Melburnian, and how the activities of The Old Melburnians Society remain relevant to those leaving school, such as the Class of 2021.
What does it mean to be an Old Melburnian?
The strongest memories of your time at school are the friendships with your classmates. Even when not attending school on campus, and learning from home, this shared experience of a Melbourne Grammar education is special.
The Old Melburnians Society provides an opportunity to not only continue that connection with your year group, but to discover a connection with thousands of other Old Melburnians, from different generations and with different life experiences.
What can you expect when you become an Old Melburnian?
The motto of The Old Melburnians is to 'Connect and Grow'. We provide the opportunity for Old Melburnians to connect and grow through a range of activities, from our program of reunions, the annual dinner and sporting clubs, to more recent additions such as our Career Masterclass.
A unique element of The Old Melburnians is being a life member. Some alumni are keen to get involved immediately on leaving school, perhaps through one of the sporting clubs.
Alternatively, alumni may leave school and have no connection with The Old Melburnians for 25 years, and then reconnect – perhaps through attending a reunion, or getting involved as a mentor.
Either approach is perfectly fine. Whenever an Old Melburnian in their life journey wishes to get involved, the welcome mat will be there.
We want as many Old Melburnians as possible to be aware of our activities, and have the opportunity to be involved. In particular, in 2021, we have been focussed on reconnecting with Old Melburnian Women – the nearly 1000 females who have attended Grimwade House since 1979. We have a committee of four Old Melburnian women dedicated to this task, starting with a major 'return to Grimwade' event planned for early 2022.
Community service is another emerging focus. Underlying the Old Melburnians is an ethos of giving back, of recognising that we were lucky to attend this school and we are obligated to apply this education for the benefit of those less fortunate.
This obligation is very aligned with the emphasis of the school in 2021. Accordingly, it is wonderful to see so many working in the fields of health, non-profits, community
and emergency services, and others doing volunteering outside of work. These attributes of Old Melburnians need to be recognised and celebrated.
How can I stay connected to The Old Melburnians?
2022 will be an exciting year for The Old Melburnians with the return of in person events. You will find information about how to stay connected on the opposite page.
Andrew Tulloch (OM 1986)
President of The Old Melburnians
Old Melburnians: 2021 by numbers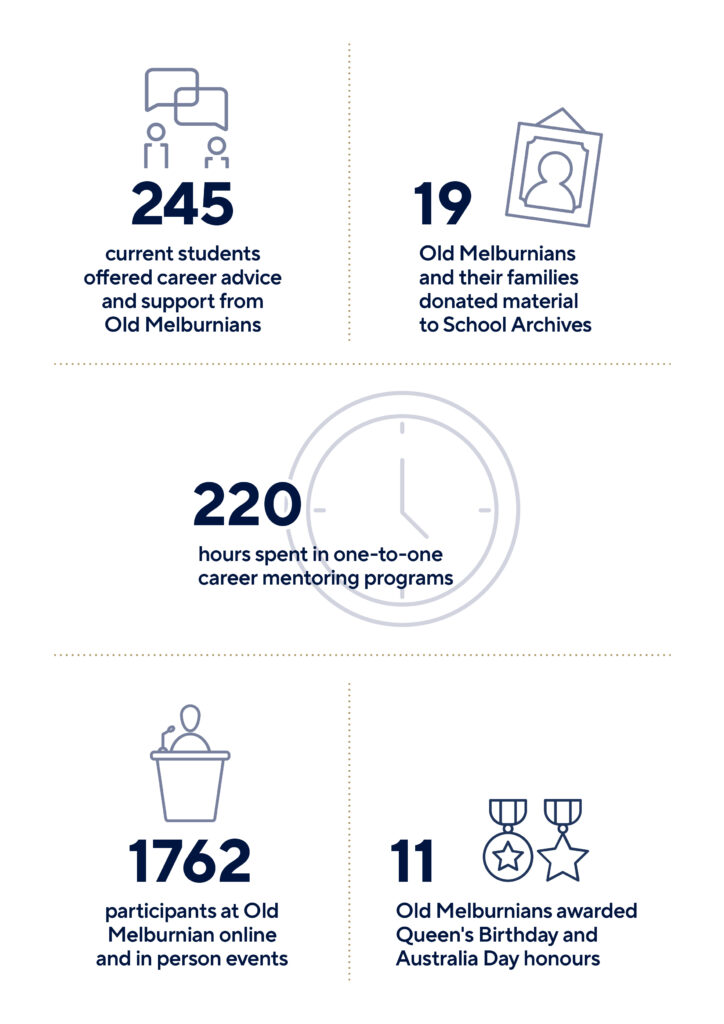 ---
Staying connected
There are numerous ways for Old Melburnians to stay in touch with the School and with each other.
OMlink
OMlink is a digital platform for all Old Melburnians, a place to connect with former classmates, House members, sports teammates and others who were part of your time at Melbourne Grammar School.
Old Melburnians can use OMlink to get in touch with one another, exchange career advice, find a mentor, post or access job listings and hear about the latest events, including your class reunions taking place around the world.
Free and simple to join, please sign up for OMlink today: omlink.org
Events
In addition to OMlink, for information about reunions, OM Journey podcasts and other events, please visit: mgs.vic.edu.au/events
Social media
You can find the Old Melburnians and the School on Facebook, Instagram, and LinkedIn.
Search: Old Melburnians
Search: Melbourne Grammar School
Contact us
+61 3 9865 7682
[email protected]
mgs.vic.edu.au/old-melburnians