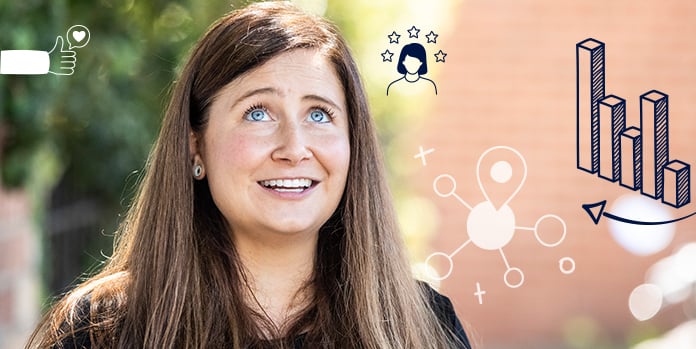 In her role as Insights Partner at the David Jones and Country Road Group, Kate Mann (OM 2001) is working in a growing field where an ability to ask the right questions is essential.
"It's my job to bring the customer point of view to the centre of the business so it can be taken into account," Kate says. "I'm using data to understand people's behaviour, their experiences and perceptions, what motivates them, and what drives their choices. This can then influence business strategy."
"My work is data focused, but at the end of the day I'm more a people person than anything else."
While the term 'data' can suggest long hours of number crunching, Kate says that is not necessarily a large part of her role. Rather, working with data scientists and analysts, Kate interprets information and data drawn from a wide variety of sources to develop insights and then make recommendations about proposed actions which will help the business achieve its goals.
"My work starts with the objective the business is trying to achieve and the core questions stemming from this," Kate explains. "These might relate to growing profitability, increasing their market share, or improving brand awareness. However, I can also be asked to respond to questions at operational and tactical levels."
"In this field it is common to group customers with similar attributes or behaviours together so we can make recommendations about how the business can best meet their needs, however in some cases the approach is to move more towards customer personalisation," she says.
The primary quality Kate says she needs to do her job well is curiosity. "You need to like to ask 'why?'", she explains. "Of course, it is also important that you understand the bigger picture, as well as the data minutiae."
Prior to her current role, Kate worked in a similar position for Myer. She also spent 10 years at Qantas, initially working as a data analyst and insights manager there, where she watched data become increasingly significant to business decisions.
"It was fascinating due to all the different types of data available across the organisation, from operational to transactional as well as a wealth of quantitative and qualitative data collected," she says. "Data driven decision making was being applied across all areas of the business from customer experience, marketing, and route planning. It even underpinned recommendations around installing Wi-Fi and the design of business class seats."
Early years at Grimwade House
Kate says her sense of curiosity was fostered at Grimwade House. "My time there was full of opportunity, with a strong emphasis on fun," she remembers. "There was an expectation that you would try your best at everything, and excellence was encouraged."
Above all, Kate values the friendships she made during her Grimwade years. "Those friendships have remained strong throughout the years," she says.