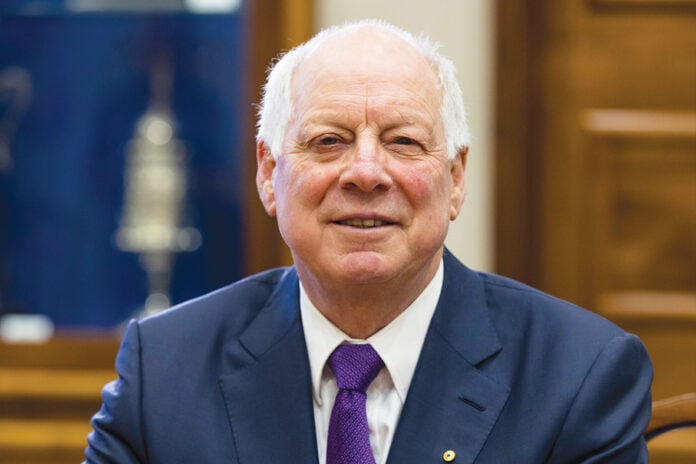 As Chair of Council, I have the privilege of working with exceptional people across our School community.
The work we have undertaken this year has further underscored the strength of these relationships. At the end of another year marked by change and readjustment, I wish to congratulate our Headmaster Philip Grutzner on guiding the School through each new stage.
I also wish to extend my congratulations to our students, teachers, and parents, recognising their understanding, support, and perseverance in the face of ongoing uncertainty. As a community, we have handled the challenges presented to us with patience, empathy, and unwavering mutual support.
The Council's role during this period has been to continue to set aside considerable time for discussion of the ways in which COVID-19 has impacted School operations, and to draw on the wisdom and resources of our various supporting committees, particularly our Risk Management Committee, to address these challenges. When necessary, we have also sought external advice to guide our decision-making. Throughout, we have continued to lend our full support to the Headmaster and his Executive team.
Our work to finalise Melbourne Grammar's 2030 strategic plan has continued despite the requirements of meeting these new challenges. This important document, which will outline the School's future direction, is now in its final stages, and we look forward to articulating its results in the near future.
Importantly, we recognise that this strategic plan is an evolution, not a revolution. We wish to uphold the best of our traditions, while readying ourselves for change.
One of the key themes identified as we worked to define our strategic plan is our ongoing focus on 'little l' leadership. We know one of the hallmarks of Melbourne Grammar is the fact that our students are encouraged to use their talents to shape, influence and create positive change in their communities, leading from within, rather than from in front.
We also understand the importance of diversity in our School community, which encompasses differences in thinking, learning styles, socioeconomic background, race, and religion.
We continue to believe that a diverse community is a strong community and wish to encourage this across our School as a whole.
A further recurring theme in our discussions has been our focus on educational excellence. As a Council, we believe the intellectual fabric of the School is a vital part of making Melbourne Grammar the exceptional institution that it is.
As the year draws to a close, I wish to farewell and extend my thanks to outgoing Council member Jack Hawkins (OM 1972), who has served with us since 2009. Having been lucky enough to play in a Melbourne Grammar football team with Jack in 1970, I remember him as a talented player, who of course went on to an illustrious AFL career, playing 182 games for Geelong FC.
As a student who boarded at Melbourne Grammar and who now lives rurally, Jack has brought an important perspective to our work. His ongoing connection with country‑based families has added a crucial balance into the strategic thinking supporting our Boarding House.
I thank Jack for his work on our Council, along with his contributions to our Risk Management Committee, Tomorrow's Leaders Today Campaign Sub Committee, and Boarder Parents Committee. Jack is a true gentleman, and we will miss his counsel, and his company.
Andrew Michelmore AO
Chair of Council