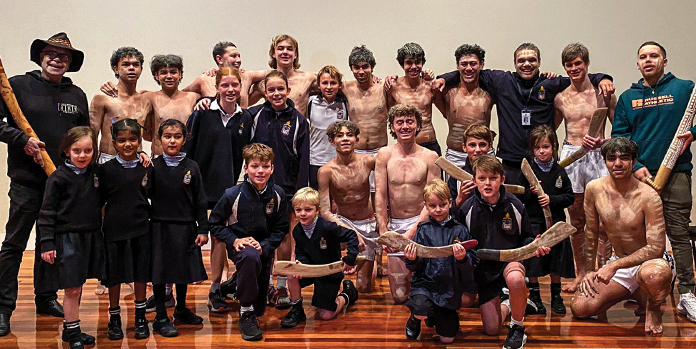 "For me, reconciliation means aboriginal people and non-Aboriginal people (coming together) to create an awareness of our culture, to share the richness of our ancestors' knowledge that has been passed down through our bloodlines for hundreds of thousands of years, and to not shy away … from doing so. I believe that … we should all be joining arms with each other in being one unit, one mob."
These were the stirring words spoken by Caleb Paterson, a young Larrikia and Bunitj man hailing from Darwin and West Arnhem land at the commencement of Reconciliation Week at Melbourne Grammar School this year. Caleb is also a Year 12 boarder and Co-Chair of the Reconciliation Committee at the School.
Wadhurst and Senior School students and staff came together to mark this important moment, participating in a smoking ceremony led by an Indigenous elder. They walked through the cleansing smoke to signify their commitment to reconciliation.
Grimwade House had held a similar ceremony on Louisa Briggs Day the week before.
Students across the School were also treated to performances of traditional dances by our Indigenous students during the week. They were a clear demonstration of the unbroken
connection of our Indigenous people to land going back at least 60,000 years.
While at Grimwade House, our Wadhurst and Senior School Indigenous students also taught our Prep students an Indigenous song.
"Reconciliation Week is a significant time in our country. It serves to highlight the importance of our connection between Australia's First People and those who came to the country later," says Headmaster Philip Grutzner. "However, as a School, our commitment to taking action to promote reconciliation is steadfast throughout the year."
At a recent sermon, Grimwade House Chaplain Rev'd Helen Dwyer, herself a proud Indigenous woman, said: "At School … we teach children to empathise and feel sadness at someone else's struggle or misfortune without having to feel personal guilt for their situation. It is no different when we consider Indigenous reconciliation. We might not have caused the division, but we have been part of a world that has caused it, and what we do (now) matters."