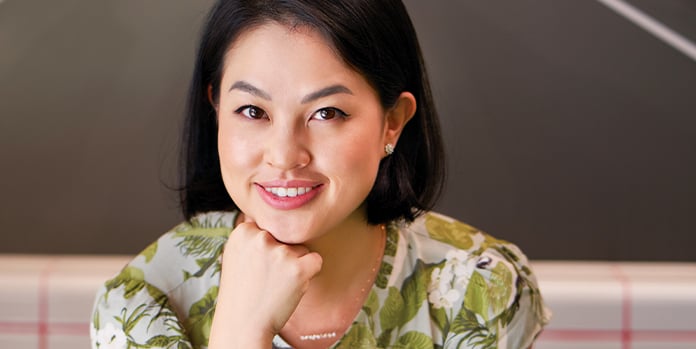 Success can be built on anything – even an ice cream sandwich. So says Natasha Chiam (OM 2003), who now lives in Singapore and is aiming to create the leading ice cream brand in Southeast Asia and beyond.
From kitchen table to international brand
"We always say that it started with a craving," Natasha explains of her decision to make the jump from careers in law and journalism to become a full-time business proprietor.
"I started by making ice cream sandwiches at home for my husband. He thought they were so good I moved on to selling them at farmers markets and pop-up events around Singapore," she says. "One day a friend approached me to ask whether I could make ice cream for his restaurant, and that was the moment I thought my hobby could become a business."
Fast-forward to 2022 and The Ice Cream & Cookie Co. has its own factory, along with the capacity to work with other companies who want to make their own one-off ice cream flavours.
"Our clients have included international companies like the Museum of Ice Cream, which came to Singapore from New York looking for a local partner," Natasha says. "We're now at the point where we're starting to look into export markets as well, including Australia."
Becoming comfortable with leadership
When asked what she's most proud of as a businessperson, Natasha immediately points to her 40-person strong staff. "My initial team members have had to grow and adapt a lot in
terms of their skills and mindset, given we have gone from a small market stall to a full-scale manufacturing business," she says. "It's been lovely to keep working with people the whole way through and help them grow to new professional heights."
"I've grown and changed a lot as well," Natasha adds. "I've been really fortunate to be able to take the business through its development. Running this business has helped me to gain confidence, become more adaptable and grow into more of a leader. You can't just expect other people to run the show."
"You also have to be open to embracing opportunities as they arise," she says. "We are still very much in a growth phase, so I need to have a very open mindset to new business ideas."
Thinking back to her Grimwade days, Natasha says her time there offered everything a student could want in a primary school.
"It was a safe place to try something new even when I wasn't that good at it," she says. "I remember you could always just give something a go. I think that spirit is really essential to being a successful entrepreneur."
NATASHA'S TOP TIPS FOR ENTREPRENEURS
Understand the nuts and bolts
"By being hands on at the start, you understand the challenges your staff will face each day and it helps you to hire the right people to do the work."
Be self-aware
"Know and build on your strengths and do what you're really good at. As you build
your business, hire people who can take care of areas where you're not as strong."
Don't be afraid of aiming high
"Open your mind to doing more than you think is possible. That's where growth lies."