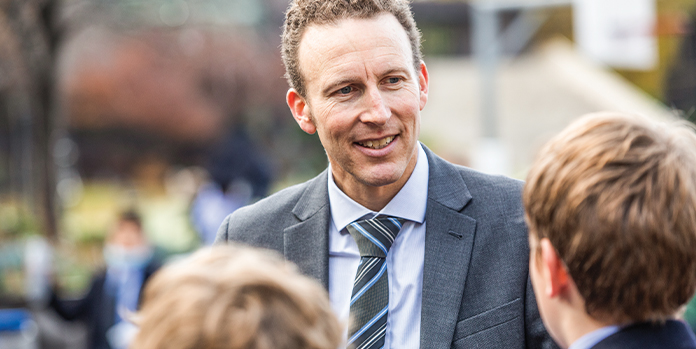 Restorative practices – as distinct from restorative justice – are built on the idea that every person has inherent value.
At Wadhurst, we draw on these practices every day as a way to build a learning environment where students feel safe, where success is celebrated, and where mistakes are always viewed as an opportunity to learn.
Restoring relationships and connection
After two years of off-campus learning, students the world over have faced challenges returning to the classroom. After an extended period with limited face-to-face contact with their peers, it is only natural that some students may struggle to form connections with others.
Addressing this challenge through restorative practices involves making students an active part of the solution. Rather than waiting until conflict arises, we try to build a community that celebrates friendship, encourages students to promote the successes of others, and enables them to resolve issues on their own.
If conflict does arise, we encourage students to move away from assigning blame or looking for excuses. Instead, we focus on ownership, accountability, and responsibility, making sure we recognise students when they make these choices.
Restorative practices in action
There are many concrete ways in which we have already embedded restorative practices across our middle school curriculum. To begin with, we celebrate personal growth throughout the year not only for students who have achieved academic success but also for those who have reached a new personal best in a particular area.
We also take the time to foster connections across Houses, tutor groups and the Wadhurst community as a whole. Through a relationship-centred approach to education we know that as students come to understand one another better, there's a far greater chance that they will instinctively treat each other with respect and understanding.
For our teachers, a restorative practices approach involves moving to a stance where we can ask: What happened? What impact did it have on others? What can we do to fix it? We separate the deed from the doer and always have the student at the centre of these discussions, initiating strategies for improved respectful interactions.
By taking an approach that values individuals and focuses on relationships, we create a culture where conflict can be prevented before it begins. When our students leave Wadhurst, we hope they will have the emotional literacy and empathy they need to navigate the next stage of their lives.
Dan Newton
Deputy Head of Wadhurst
About Dan Newton
Dan Newton has been Deputy Head of Wadhurst since 2016. Prior to this Dan held leadership roles in a range of secondary schools.
His current role includes overseeing the campus's student management and pastoral care programs, as well as daily organisation.
Dan holds a Bachelor of Science, and both a Diploma of and Master of Education, the latter from the University of Melbourne.