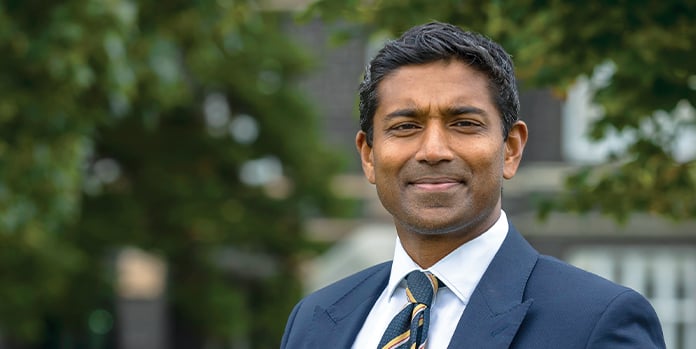 Change can be daunting at the best of times. Not long after a global pandemic, we are
facing a new political landscape, an energy crisis, soaring living costs, and a renewed urgency for de-carbonisation that is redefining what some of us do.
These drivers of change affect us differently. But through it all, there is at least one constant: community. I hope we all have a community we can fall back on for support, encouragement and inspiration. This may be your family, your church, your sporting club, or your friends.
This is where the Old Melburnians Society fits in.
We are a 17,000 strong community of past students bound by shared cultural values and experiences arising from our time at Melbourne Grammar School. This community supports every student who has attended Melbourne Grammar, regardless of their year of graduation.
The Old Melburnians Council is the governing body of this community. We operate as a Board and, through seven sub-committees, deliver an annual program of initiatives to support and inspire our Old Melburnians, and even our current students. Council Members are volunteers with careers and families. We are passionate about the School and are focused on helping Old Melburnians to 'connect and grow'.
We 'connect' Old Melburnians through the annual Business Breakfast, our OM Journeys speaker series, year group reunions, our numerous sporting clubs and interest groups, and through the Annual Dinner.
This year, we are launching a new initiative to help our female alumni feel more connected, and we look forward to welcoming them back to Grimwade House for a celebration on 17 November 2022.
Other initiatives such as the Dick Cotton Fellowship, our acclaimed Career Masterclass, and Year 12 Careers Night, are designed to help Old Melburnians 'grow' their professional network, their confidence, and their perspectives.
As the world changes around you, remember that you belong to one of the oldest school alumni communities in Australia. A conversation with an old school friend you've not seen in decades, guidance from a mentor, or a tip from someone who 'has been there' can help immensely.
I encourage all Old Melburnians to explore what this community can offer, to join in and perhaps even help your fellow Old Melburnians. The 142nd Annual Dinner on 18 August at the MCC, is a great way to reconnect with each other, and my fellow Councillors.
I am delighted to introduce the 2022 Council here. Feel free to reach out to us at [email protected] if you are interested in becoming involved with The Old Melburnians.
Thindika Amarasekara (OM 1991)
President of the Old Melburnians Council