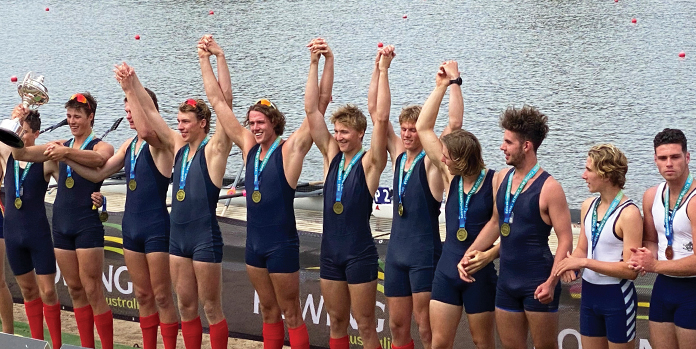 Past and present Melbourne Grammar rowers have achieved outstanding results this year.
NATIONAL CHAMPIONS
Congratulations to Melbourne Grammar's First VIII crew who won the Schoolboy's Coxed Eight National Championship title earlier this year.
The crew had a commanding lead at the 250m mark, and didn't lose it throughout the race. They crossed the finishing line 3.00s ahead of Scotch College, and 4.61s ahead of Shore School.
It was a fitting victory for the outstanding crew who, despite leading at the halfway mark, took second place in the APS Head of the River race, losing by 3.70s to Scotch College, just one week prior to the National Championships.
AUSTRALIAN REPRESENTATIVES
Four First VIII rowers will represent Australia as part of an Under 19 Coxed Eight crew. They will compete in a World Championship event to be held in Varese, Italy from
25 – 31 July.
Congratulations to Winston Hooper, James Houghton, Matthew Porter and Magnus Randall on their tremendous achievement. The rowers won their seats based on their performance at the National Underage Selection Trials in May 2022.
Melbourne Grammar's Director of Rowing and First VIII coach, Tom Abramowski, has been selected to coach the crew. Tom's many accomplishments include coaching Fergus Hamilton (OM 2017) to a junior world championship in 2017.
We wish Tom and the entire crew the very best for the upcoming regatta.
OXFORD WIN
2016 Captain of Boats Jack Robertson (OM 2016) continues his rowing success competing as part of the victorious Oxford University Blue Boat in the 2022 staging of The Boat Race against the University of Cambridge.
While at Melbourne Grammar, Jack rowed in the First VIII in both 2015 and 2016, winning the 2016 APS Head of the River. His 2016 crew also won the Leander Club Challenge Cup for best international school crew at Henley Royal Regatta that year. Jack was also a part of the undefeated Under 17 Schoolboy Eight who were National Champions and Head of the River Champions in 2014.
In 2021, Jack graduated with a Bachelor of Arts from the University of California, Berkeley where he was awarded highest GPA on the Men's Rowing team in both 2020 and 2021.
Last year he rowed in the Interstate Championship, winning the King's Cup for Victoria.
Jack is currently undertaking postgraduate studies in sociology at the University of Oxford.