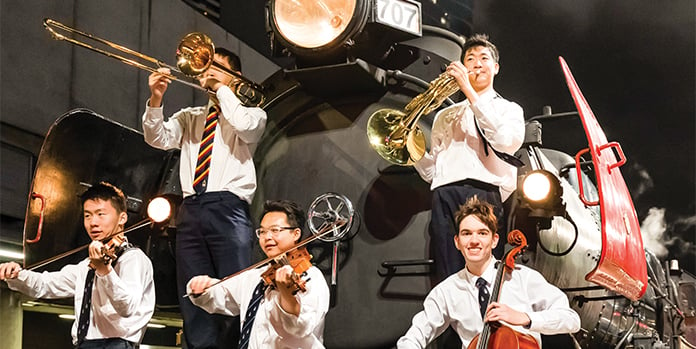 The Melbourne Grammar School Symphony Orchestra will tour regional Victoria in December 2022 for the first time since 2001.
Open to the public, we invite all members of the Melbourne Grammar community to come along and enjoy the wonderful music which will be created by around 85 talented musicians.
We look forward to your support for these young musicians as they undertake a once in a lifetime musical adventure.
All proceeds will be donated back to the relevant local community.
Performance details
| | |
| --- | --- |
| December Dates | Venue |
| Saturday 10 , evening | Wycheproof Hall |
| Sunday 11, lunchtime | Maryborough Railway Station |
| Sunday 11, evening | Boort Memorial Hall |
| Monday 12, evening | Warrnambool Lighthouse Theatre |
| Tuesday 13, evening | Sale Wedge Theatre |
| Wednesday 14, twilight | Buchan Town Hall |
| Thursday 15, evening | Swan Hill Riverside Park |
| Saturday 17, evening | Morundah Paradise Palladium |
To find out more, and to book your tickets, visit here.

About the tour

Over 9 days and nights, the Melbourne Grammar School Symphony Orchestra will cover the length and breadth of Victoria, from the Gippsland Lakes to the Murray River, from the dairy farms of the Western District to the grain silos of the Mallee.
This 3,000km adventure will take place on our own chartered heritage train complete with
sleeping carriages, which will be our home as we bring our music to the people of regional Victoria.
The musicians will spend their days discovering the traditional and settlement history of each area, undertaking workshops with local musicians, as well as visiting historic and other local points of interest, and properties of several of our Melbourne Grammar families.
They'll perform at least eight concerts of various sizes and levels of formality in venues great and small. Some nights they'll perform in modern theatres, others in heritage halls, sometimes in farm sheds and sometimes under the stars.