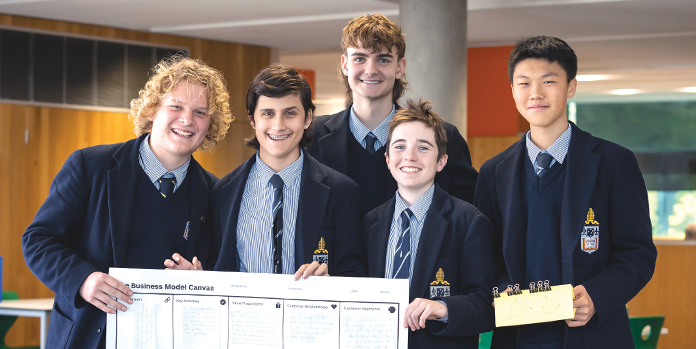 What does it mean to think like an entrepreneur? Answering this question in our Senior School has led to the creation of a new elective unit that focuses on exploration, problem solving and teamwork: Entrepreneurship and Enterprise.
A focus on solving problems
"We created Entrepreneurship and Enterprise as a Year 9/10 student-led subject that would go beyond the idea of simply making money," explains Lisa Ritchie, Head of Commerce in the Senior School. "What really stands out when we look at the projects our students have come up with is that they are focused on making people's lives easier. Their empathy really came out in their ideas."
Students went through each step of the business creation process, from looking at examples of financial models to deciding which problem they would try to solve, how they would create a revenue stream, developing prototypes, and pitching to a panel of teachers who provided honest feedback.
"Probably the most successful part of the subject has been helping students to see that not every idea works, and that's alright," Ms Ritchie says. "They've learned to take on the feedback of their peers and teachers, evaluate what's working and what's not, and change their approach where they can."
Project snapshot: SUM Enterprise
Projects included an app that could help students stay organised, an in-home childcare service and a pet-sitting business. But for one group, helping Melbourne's homeless population was the idea that resonated most.
This group 'created' SUM Enterprise, a business focused on Melbourne's homeless population, distributing care packages that could provide relief from cold and hunger as well as protection from the elements. The idea extended to offering free hair cuts and links to social support organisations.
"To come up with our idea we each discussed the problem from our own point of view and how we thought we could overcome it," says Barlow Telford, Year 9. "I've always wanted to start a business, and this has opened me up to a new way of thinking and being more creative."
"We learned that there were different kinds of businesses, including social enterprises, and that there are different steps to take for each, depending on what your goal is," adds Year 10 student Henry Sutton.
Plus, there were benefits beyond academic learning according to Year 10 student Angus Nicholls. "Because the students in the subject span Year 9 and 10, doing the group work and practical work in this subject has really helped us make friends outside our year level," he says. "We had to learn to trust each other to get the project done."