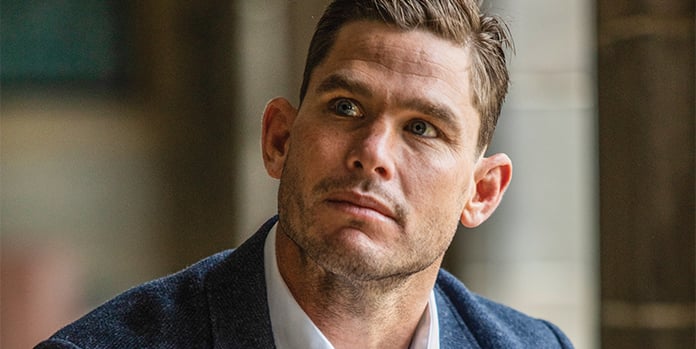 When Geelong FC full forward Tom Hawkins (OM 2006) ran onto the Sydney Cricket Ground in Round 2 of the 2022 AFL season, he broke a long-standing Melbourne Grammar School record.
Tom is now the Old Melburnian who has played the most VFL/AFL games in the School's history. He also holds the highest percentage of wins amongst the top 10 'most games played' ranking at 72%.
The values behind commitment
"I've always had a competitive drive – I think everyone does," says Tom. "But it depends on how you channel it. For me, I feel driven to do well in all areas of my life. I want to be a good teammate and help my team win, but I also want to be the best husband and father I can be, and the best friend. That takes a different sort of drive."
Reflecting on his career so far, Tom is also quick to point to the support of others as a major factor contributing to his success.
"My family and my communities, including Melbourne Grammar, have put so much into my career," he says. "It's wonderful knowing this community celebrates my successes, as I do theirs."
A willingness to 'have a go'
Tom remains one of Melbourne Grammar's favourite sons. He was a third-generation boarder at Perry House, following on from his grandfather Wynne (OM 1940) and his father Jack (OM 1972). Jack was himself a superb footballer and is currently ranked fifth in the number of games played.
"Everyone here knows how fortunate they are to go to such a wonderful school," Tom says. "I came from a small country town in NSW to a place where I didn't know anyone, but being a boarder at Melbourne Grammar was the best experience of my life."
Tom says he learned three valuable lessons during his time at the School: to be willing to step out of his comfort zone, to have a go, and to create good work habits. "These ideals stand me in good stead even today," he says.
Early success at School
Tom played his first game for the First XVIII in Year 10, and was a regular team member from Year 11. He won the Larke Medal (most valuable player) in the AFL Under-18 Championships in his final year at the School.
"As Co-captain of the First XVIII in Year 12, Tom's style was to lead through action rather than words," says Ben Hanisch, Tom's Boarding Tutor and Japanese teacher, and now Deputy Headmaster and Head of Senior School. "He began as a shy public speaker but, over the season, grew into the confident yet humble person we see playing for Geelong today."
Old Melburnians ranked by AFL games played (as at 6 June 2022)
Name
AFL Career
Total Games
W-L-D
1.
Tom Hawkins (OM 2006)
2007 –
317 @ Geelong
225 (72%) – 2 – 90
2.
Chris Langford (OM 1979)
1983 – 1997
303 @ Hawthorn
205 (68%) – 2 – 96
3.
Andrew Thompson (OM 1990)
1997 – 2007
221 @ St Kilda
103 (47%) – 2 – 116
4.
Steven May (OM 2010)
2011 –
184 @ Gold Coast (123),
Melbourne (61)
79 (43%) – 2 – 103
5.
Jack Hawkins (OM 1972
1973 – 1981
182 @ Geelong
88 (48%) – 0 – 94
6.
Simon Beaumont (OM 1993)
1995 – 2003
179 @ Carlton (152),
Hawthorn (27)
77 (43%) – 0 – 102
7.
Zach Merrett (OM 2015)
2014 –
177 @ Essendon
74 (42%) – 2 – 101
8.
Don Cordner (OM 1939)
1941 – 1950
166 @ Melbourne
90 (55%) – 1 – 75
9.
Ian Synman (OM 1953)
1958 – 1959;
1961 – 1969
154 @ St Kilda
98 (64%) – 1 – 55
10.
George (Denis) Cordner
(OM 1941)
1943;
1948 – 1956
152 @ Melbourne
85 (57%) – 3 – 64