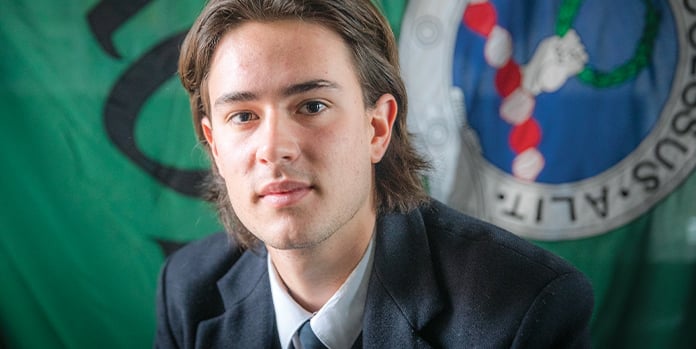 A sense of connection is visible in so many aspects of our School, perhaps none more so than within some of our oldest Houses.
Ross House was established in 1914. It is named after John George (Jack) Ross (OM 1875) and Hugh Macdonald Ross (OM 1876), two brilliant all-rounder brothers. Jack died at a relatively young age and the Ross Gates in Domain Road were given to the School by Hugh and other Old Melburnians in Jack's memory. Members of Hugh's immediate family, including his son, grandsons and great-grandsons have all attended Melbourne Grammar School.
The Ross brothers' strong sense of camaraderie, contribution and friendship has defined the spirit of Ross House since its inception. And connections to the House often remain strong well into the years beyond the bluestone.
A culture of playing it forward
For House Vice-Captain Hugo Martin, now in Year 12, Ross House is part of the fabric of his family. "My grandfather, Alan Pinkus (OM 1954), was the Vice- Captain of Ross House in the 1950s, and his brother, Brian Pinkus (OM 1951), was also a Ross House boy," Hugo explains. "My grandfather's favourite memories are all from being here. He comes back to see me play sport. He also just stands in front of the Chapel and smiles."
Having joined the School in Year 9, Hugo knows first-hand how important it is to support the other members of his House. "Ross House has a tradition of Year 12 boys mentoring the Year 9s, and for me, that made something that could've been quite intimidating really special," he says.
"My Year 12 buddy helped me out from Day One," Hugo adds. "To me, that ability to connect with whoever you want within the House, no matter their year level, and build relationships through little things like saying hi at the lockers, is so important."
A talented artist, Hugo's education is supported by the Will Ballantyne Scholarship for the Visual Arts this year. "Art is my passion, so receiving this scholarship validates all my hard work," Hugo says. "It's made it twice as special."
A gift from a former Ross House Captain
This enduring tradition of care and connection is exemplified by another Ross House member, the late Peter Siminton (OM 1945), who served as Ross House Captain in 1945.
His time at Melbourne Grammar is marked by his eagerness to contribute to the House in many areas, including sport. His love of Ross House never left him, meticulously cataloguing objects and photographs from his Ross House days, and subsequently passing them on to the School Archives.
Remembered as a friendly and outgoing Old Melburnian who maintained strong links to our School until his death in 2020, Peter generously gave a bequest to the School through his Will.
His gift will enable the establishment of a new scholarship at the School. In this way, Peter's legacy of kindness and support, as well as his association with Ross House and the School will live on well beyond his lifetime.
For a conversation about including a gift to the School in your Will, please contact:
Roni Baird
Manager, Gifts in Wills
+61 3 9865 7632
[email protected]