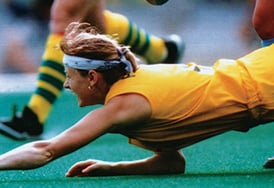 Many Australians have fond memories of the Hockeyroos' Gold Medal performance at the 1996 Atlanta Olympic Games. Playing as a midfielder in all of Australia's matches at the tournament, Danni Roche OAM (OM 1987) scored three goals, including the only goal against Germany.
Danni played 50 representative games for Australia throughout her hockey career, before retiring with a knee injury following the Atlanta Olympics. In 1997, she was honoured with a Medal of the Order of Australia for her service to sport, and in 2000 was awarded an Australian Sports Medal.
Outside her sporting career, Danni holds an MBA, has undertaken Executive Education studies at Harvard University, and currently serves as a member of the Sports Diplomacy Council at the Australian Department of Foreign Affairs and Trade, Chairperson of the National Australia Day Council, Director of the St Kilda Football Club, and a Trustee of the State Sports Centre Trust of Victoria.
Alongside this extensive list of service positions, Danni has also been a Commissioner of the Australian Sports Commission, a former strategic advisor to the Secretary and the Executive of the Department of Home Affairs as well as a former Director of Ord Minnett Private Wealth Australia.
In 2018, Danni reflected on her experience at Melbourne Grammar School, where she attended during Years 5 and 6: "I just loved playing sport … Sport is a great leveller. You play together, and you contribute together. It's also a competitive environment and you need to develop skills and confidence to succeed. We were always learning new skills and we were always being encouraged to 'have a go', especially the girls…" (Danni Roche, Grimwade House: 100 Years Young, 2018)