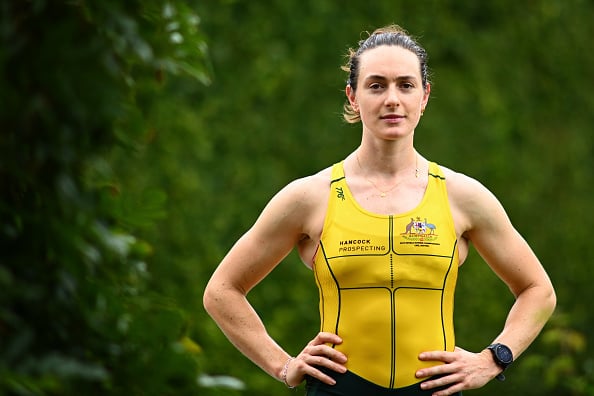 STOP PRESS: Congratulations to Jessica Morrison who won a Gold Medal in the Women's Four event at the 2021 Tokyo Olympic Games.
Well done to world championship silver medallist rower, Jessica Morrison (OM 2010), on her selection to the 2021 Australian Olympic Team. We're looking forward to seeing her compete in both the Women's Pair (W2-) and Women's Four (W4-) events.  
Speaking in the lead up to the Heats, Jessica said: "I'm feeling really confident and well prepared to race in a couple of days' time. Our team has really benefited from the additional year of training as a result of the postponement and sit in a really strong position across all boat classes. It's a huge honour and privilege to be given the opportunity to represent Australia in two boats this year and I'm excited to get stuck into some fast racing with some of my best friends."
2021 marks Jessica's second Olympics after she represented Australia at the 2016 Rio Games in the Women's Eight. She is entering this year's Games after a string of successes both on and off the water.
As a member of the Australian Women's Sweep Squad, she won two silver medals at the 2019 World Rowing Championships and was the overall world cup winner for both the Women's Pair and Women's Eight (W8+) events that year.
But 2019 saw Jessica recognised for more than her rowing prowess. Among those many medal wins, she also received Rowing Australia's 2019 Gina Rinehart Leadership Award.
In announcing the accomplishment, Rowing Australia Patron, Mrs Gina Rinehart said: "This year's winner leads by example. She is a consistent voice that looks after her teammates. She may not be the loudest, but when a strong example is needed she is there."
A Melbourne Grammar School student from Prep to Year 6, Jessica is remembered fondly by teaching staff for her enthusiasm in all things sport. Her talents shone through in activities as diverse as snowsports, athletics, swimming and cross-country. By Year 6, Jessica's leadership qualities were already clear as she took on the roles of School House Captain and Co-Captain of the Athletics team.
Swimming at State level for many of her primary school years, Jessica was also a member of a Grimwade House Australian Primary School Championship team in the Australian Interschools Snowsports competition.
Jessica, we wish you every success in your 2021 Olympics campaign and beyond.
View messages of support for our Old Melburnian 2021 Olympians created by Grimwade House students here.