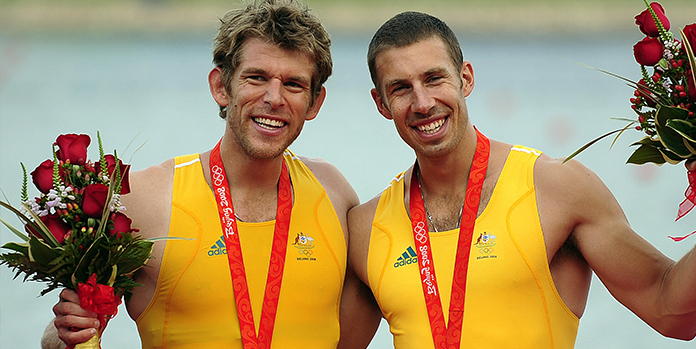 David Crawshay OAM (OM 1997) has a deep understanding of the commitment required to reach sporting success. He is an eleven-time national champion, an Olympic Gold Medallist and winner of multiple medals at World Championship events.
Writing in The Melburnian as a Year 12 student, David said: "Rowing is a sport unique in all senses. It is tough, hard and uncompromising. Countless morning and afternoon sessions on the water and in the gym seem to count for nothing unless you win the 'big one'. If you don't then the season is often cast far away from the memory. This is indeed a shame, because the sport of rowing is one where camaraderie always comes first."
David's first experience representing Australia came at the 2000 Nations Cup, where he won silver in the U23 Men's Quadruple Sculls. This achievement marked the beginning of many years in the international spotlight, representing Australia at 10 Senior World Rowing Championships where he won one bronze and two silver medals, and at 17 World Rowing Cups where he has won one gold, two silver and four bronze medals.
Added to these experiences, David represented Australia at three consecutive Olympic games from Athens 2004 to London 2012. It was at the 2008 Beijing Olympics where he excelled, winning the Gold Medal in the Men's Double Sculls. You can watch a recording of this Gold Medal winning performance here.
During his time at Melbourne Grammar, David was selected for the First VIII rowing crew in Year 11, joining a crew that came second in the Head of the River in 1996, and won the championship the following year. These crews also included Olympic Silver Medallist and world champion rower, Karsten Forsterling (OM 1997).
Entering Melbourne Grammar School in Year 5, David was an active member of our School's community, representing the School in numerous sports, becoming a Senior Chorister in our School Choir and, in Year 12, a House prefect for Bromby.
After completing Year 12, David went on to coach rowing at the School for several years, then returned to row as a member of the 2018 Open Alumni crew. This crew won the interschools race at the 150th anniversary celebrations of the Head of the River.
In 2020, David was elected Chair of the Rowing Australia Athletes' Commission and has been appointed a Director on the Rowing Australia Board.
David counts himself lucky to have been given the opportunity to develop his rowing at Melbourne Grammar and after. "I was fortunate to have great coaches at all levels who nurtured the person as well as the rower. I was also extremely lucky to be around people at school and beyond who I still count as friends," he says. "Melbourne Grammar has a fine rowing tradition at the Olympics, with Tim Masters and Jess Morrison carrying on that baton."
In his professional life, David has worked as a lawyer, and currently sits on the Administrative Appeals Tribunal in the Migration Division.