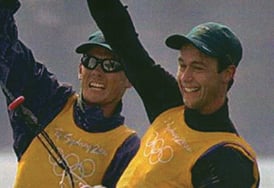 As the Tokyo Games unfold for our 2021 Olympic hopefuls, we celebrate the Old Melburnians who've gone before them. Tom King OAM (OM 1990) is one such Olympian, with a Sydney 2000 Gold Medal to his name.
An outstanding yachtsman, Tom won Gold in the 470 Class in Sydney. This achievement made Tom and his fellow crewman, Mark Turnbull, the first Australian sailors to win a Gold Medal in sailing in 28 years, and the first ever Australians to win Gold in that Class.
That same year, Tom and Mark secured the 470 World Championship, and were ranked number one in the world in the 470 Class. This wasn't Tom's first World Championship or his last: he won in the Mirror Class in 1991 and the Etchells Class in 2012.
Tom had previously represented Australia at the 1996 Atlanta Games, also in the 470 Class.
Continuing to contribute to his sport after his retirement in 2000, Tom has served in leadership positions including Chairman of the Australian Olympic Committee (AOC) Athletes' Commission, Chairman of the Yachting Australia Athletes' Committee, a Director of the Board of Yachting Australia, and a member of the Australian Olympic Committee Executive.
He was also Operations Manager for the Australian Winter Olympic Team in 2006 and Director of Athlete Services with the Australian Olympic team at the 2008 Beijing Games.
In 2001, Tom's contributions and successes were recognised with the Medal of the Order of Australia for service to sport as a gold medallist at the Sydney 2000 Olympic Games. He and Mark Turnbull were also named Australian Male Sailors of the Year for 2001/2002.
Tom's sailing history stretches back to his school days. He commenced at Melbourne Grammar School in Year 5 and, over the years, contributed to many facets of the School. He was an outstanding scholar, being Dux of Wadhurst in Year 8 and was one of only thirteen Melbourne Grammar students to receive 5 'A's in 1990, his final year at the School.
But of course, it was also in sailing where he excelled. He served as Vice-Captain of Sailing in Year 11, and Co-Captain in Year 12, representing Rusden House and the School with distinction.
Alongside his sailing achievements, Tom holds a first-class honours degree in Mechanical Engineering from the University of Melbourne and has subsequently built a successful career in the finance sector.