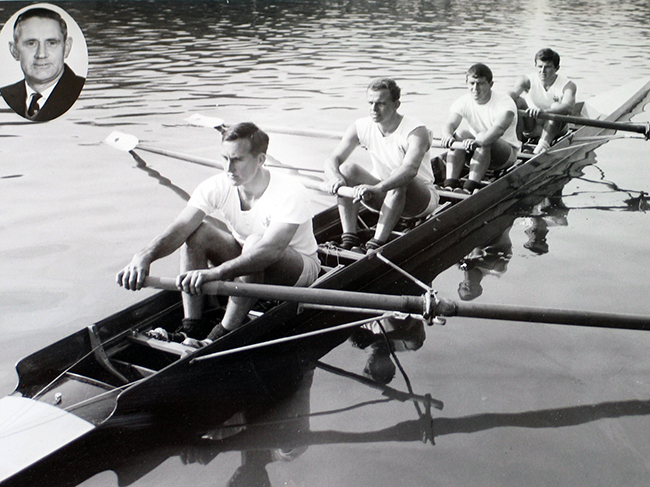 Melbourne Grammar is proud of the fact that our staff cultivate skills well beyond the classroom, and their many sporting achievements are no exception. Here are some of the staff members who have experienced Olympic-level competition.
(Albert) Lewis Clayfield (staff member: 1924–63)
Grimwade House Principal from 1953 to 1963, Lewis Clayfield, thrilled students when he announced he would serve as a timekeeper at the 1956 Melbourne Olympic Games. Known for his meticulous attention to detail, and having worked as a timekeeper at School boxing matches, athletics and swimming carnivals, Clayfield was a natural choice for the role.
His position as Grimwade House Principal came after a lifetime of connection to Melbourne Grammar School. He joined Wadhurst staff in 1924 and, from 1933, taught English and Geography in the Senior School. He also coached football and cricket, and was Housemaster of Ross House for some years. In the Cadet Corps he was quartermaster and, later, its commanding officer.
"Wherever time was kept he was the timekeeper; before you questioned his readings you would challenge Father Time himself."

The Melburnian, 1963, p. 15
Tony Walker (staff member: 1992–present)
As a young man and an excellent rower, on watching the final of the Grand Challenge Cup, Tony Walker decided to join the winning crew's Club, Mercantile Rowing Club. In the lead-up to selection for the 1964 Tokyo Games, Walker rowed with three winning crews: two at the Australian Henley-on-Yarra Regatta—the Grand Challenge Cup and the Senior Four—with a third win at the National Men's Coxless Four Championship.
Unfortunately, the 1964 Games did not continue this winning streak. Walker rowed in the Men's Coxless Four, but no Australian rower returned from Tokyo with a medal.
Despite this Olympic disappointment, Walker continued as a rower, creating lifelong friendships among the rowing community, and serving as a beloved manager of the Melbourne Grammar School boatshed for thirty years.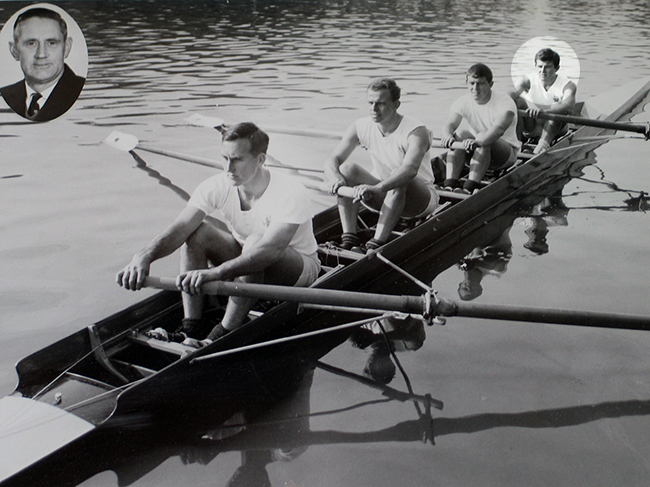 Brian Richardson (staff member: 1979–84)
Brian Richardson represented Australia at two Olympic Games in the Men's Eight crew: in Montreal 1976, and in Moscow 1980. Both crews missed out on medals, placing fifth in their respective competitions.
As a Melbourne Grammar teacher, Richardson taught Mathematics in the Senior School and coached several rowing eights.
Also an avid sailor, students loved hearing his stories of his involvement as a member of the Australia II crew which defeated the USA for the America's Cup in 1983.
The Team of Australia II
John Bertrand AO (skipper)
Colin Beashel OAM
Will Baillieu OAM
Peter Costello OAM
Damian Fewster OAM
Ken Judge OAM
Skip Lissiman OAM
John Longley AM
Brian Richardson OAM
Phil Smidmore OAM
Grant Simmer OAM
Hugh Treharne OAM
After leaving Melbourne Grammar in 1984, Richardson continued to support fellow rowers as a coach. It was during this period that he achieved rowing success, with his crews winning a total of 65 medals at World Championships and Olympic Games between 1986 and 2008. During this period he twice served as head rowing coach for Australia, including in 2000 when the Australian Eight won silver.
Carolyn Walker (staff member: 1991–2017)
A Legal Studies teacher at the Senior School, Carolyn Walker made the decision to take two years away from her professional commitments in 1990-91 to umpire tennis at the highest level. She umpired at two Wimbledon and two US Open tournaments, and at the 1992 Barcelona Olympic Games. She has also umpired at seven Australian Opens.
Walker was known as someone who could coach any School sport. She took charge of the First tennis team for twelve years, and in 1995 shared coaching of the First XI soccer with Ange Postecoglou. She was also a dedicated Head of House for Bromby and Ross House.
"In the sporting arena, Carolyn surprised the Headmaster and the Director of Sport when she said that she was happy to coach or manage any sport at any level."

The Melburnian, 2017, p. 198