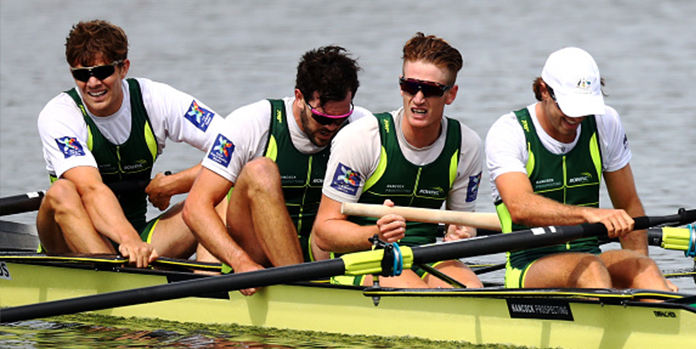 View messages of support for our Old Melburnian 2021 Olympians created by Grimwade House students here.
Melbourne Grammar School was delighted to hear of Tim Masters' (OM 2009) inclusion in the 2021 Australian Olympic Team. Tim will compete in the Men's Rowing Eight (8+) event in his first Olympic Games experience.
Tim's sporting talent was evident during his time at Melbourne Grammar, where he was a student from Years 5 to 12. He was a member of the 2009 First Rowing VIII crew, which took out both the Victorian Schoolboy Eight Champions (Head of the River) and the Australian Schoolboy Eight Champions (National Championships).
Recognised as a gifted athlete and all-round "great guy", Tim complemented his rowing training with time on the rugby field. In 2007, he was part of the First XV Rugby team which went on to reach the grand final and, in 2008, was a member of the First XV Rugby team in the Melbourne Grammar School Sesquicentenary Carnival.
After Year 12, Tim became a top-tier rower at Princeton University—one of the world's most prestigious rowing academies. He won multiple medals at the U23 World Rowing Championships, including silver in the U23 Men's Four in 2012 and 2013, and in the U23 Men's Eight in 2014.
Rowing in Men's Eight events, Tim added silver medals to this list at the 2017 and 2018 World Rowing Cup III, and in the 2017 and 2018 World Rowing Championships.
Tim won his first world championship at the 2019 World Rowing Cup II, rowing in the Men's Four. His winning streak continued with a gold medal performance in the 2019 World Rowing Cup III Men's Four event.
Good luck at Tokyo, Tim. The Melbourne Grammar School community is behind you.
Olympic Games schedule – Men's Rowing Eight Team
Heats: Sunday 25 July, 10:30am – 1:10pm (AEST)
Repechages: Wednesday 28 July, 10:30am – 1:10pm (AEST)
Finals: Friday 30 July, 11am – 1:10pm (AEST)