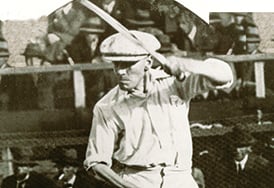 Many sports contested by Old Melburnians at elite level are only relatively recent additions to the Olympics. Some, like golf, are not yet included at all. Accordingly, some of our most successful athletes have achieved world championship status outside the Olympic arena.
While not an exhaustive list, our world champions include:
Tennis stars
Sir Norman Brookes (OM 1895)
Norman Brookes won his first Wimbledon Singles and Doubles titles in 1907, after being Singles runner-up in 1905. He won both these titles again in 1914.
Brookes also won the Singles title in the 1911 Australasian Championships and the Doubles title at that event in 1924. In 1919, he secured the US Open Doubles Championship.
A long-serving Australian Davis Cup representative, Brookes was part of trophy-winning teams in 1907, 1908, 1909, 1911, 1914 and 1919.
The trophy for men's Singles at the Australian Open, the Norman Brookes Challenge Cup, is named in his honour. Brookes' Wimbledon-winning racquet is held in the School Archives.
Read more about his story here.
Arthur O'Hara Wood (OM 1908) and Pat O'Hara Wood (OM 1910)
Brothers Arthur and Pat O'Hara Wood were highly ranked tennis players in the 1910s and 1920s.
Major Arthur O'Hara Wood won the Men's Singles title in the 1914 Australasian Championships. His tennis career was cut short when he was killed during WWI.
Pat O'Hara Wood achieved eight international tennis titles during his stellar career. He won the Singles title at the Australasian Championships in 1920 and 1923 and a long list of Doubles titles: the Australasian Championships in 1919, 1920, 1923 and 1925, Wimbledon in 1919, and Mixed Doubles at Wimbledon in 1922.
Colin Long (OM 1936)
Colin Long was a highly successful Mixed Doubles tennis player. He won the Australasian Championships title in 1940, 1946, 1947 and 1948—a record number of wins that still stands today.
---
Golfing prowess
Ivo Whitton (OM 1911)
A dominant figure in Australian golf for over two decades, Ivo Whitton first won the Australian Open in 1912, the year after he left school.
He retained this championship the following year, going on to win three more titles in 1926, 1929 and 1931. He also won the Australian Amateur twice, along with numerous State championships.
---
Dedication to rowing
John Harry OAM (OM 1965)
John Harry OAM (OM 1965) was a member of the Australian Men's Coxed Four championship team at the 1967 North American Championships event, making him one of both Australia's, and Melbourne Grammar School's, earliest world champion rowers. (At that time, the North American Championships were recognised as a world championship event by the international rowing federation.)
John was recognised in the 2021 Queen's Birthday Honours list and awarded a Medal of the Order of Australia with the citation reading: 'For service to the community, to rowing, and to the legal profession.'
Andrew Michelmore AO (OM 1970)
Andrew Michelmore won Gold at the 1974 World Rowing Championship, competing in the Lightweight Coxless Four event. His was the first Australian crew to win a championship title in a World Rowing Championship regatta.
In 1975, the same crew sought to defend their title, ultimately taking the Bronze Medal that year.
A Rhodes Scholar and successful businessman, Michelmore is Melbourne Grammar's current Chair of Council.
Karsten Forsterling (OM 1997)
Karsten Forsterling was a world class rower whose success came during the 2000s and 2010s. He won the first of his five world championships at the 2006 World Rowing Cup II, competing in the Men's Eight event. He followed this with a further world title in the Men's Eight event at the 2008 World Rowing Cup I.
Forsterling also achieved success in the Men's Quadruple Sculls event, winning the world title at the 2011 World Rowing Championships, the 2016 World Rowing Cup II and the 2016 World Rowing Cup III.
Added to his world championships, Forsterling has twice represented Australia at the Olympic level, securing a Bronze Medal in the Men's Quadruple Sculls event at the 2012 London Games and going on to win Silver at the 2016 Rio Games in the same event.
David Webster (OM 2005)
An outstanding coxswain, David Webster steered Australian crews to two world championship titles in 2010 and 2011.
Webster was chosen to be Captain of the national Australian rowing squad in 2013, and followed this with another championship in the Men's Eight event at the 2014 World Rowing Cup I.
Fergus Hamilton (OM 2017)
Fergus Hamilton was a Year 12 student when he was first crowned world champion, winning the Men's Double Scull event at the 2017 World Rowing Junior Championships. Hamilton was coached to this win by Melbourne Grammar School's Director of Rowing, Tom Abramowski.
Hamilton is currently studying at Yale University, and rows in their successful top-tier crew.
---
Success in hockey
Lachlan Dreher (OM 1984)
Lachlan Dreher was a stalwart of the Australian Men's Hockey team, standing his ground as goalkeeper, for more than a decade.
In addition to winning an Olympic Silver Medal at the 1992 Barcelona Games and Bronze Medals at the 1996 Atlanta and 2000 Sydney Games, Dreher was also a member of the international Champions Trophy-winning Australian team in 1989, 1990, 1993 and 1999.
---
Championship cricketers
Edward (Ted) a'Beckett (OM 1926)
Edward a'Beckett was a member of the Australian cricket team that won the 1930 Ashes series against England. He had an auspicious start to his career, taking a wicket with his first ball when he made his debut for Victoria in the 1927/28 season.
a'Beckett went on to play 47 matches for Victoria and four tests for Australia between 1928 and 1932.
Colin Guest (OM 1955)
Colin Guest played in the 1962-63 Ashes series, which Australia won. A right arm fast bowler, he played in the third match of the series.
Louise Broadfoot (OM 1995)
Known as a strong all-rounder, Louise Broadfoot (OM 1995) was a member of the IWCC Women's Cricket World Cup championship team in 2005.