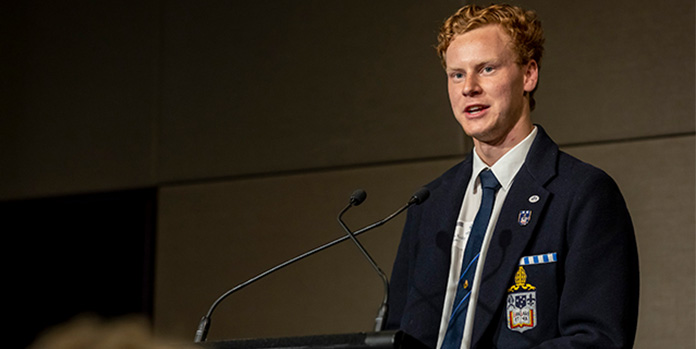 James Kealy (OM 2021) boarded at Melbourne Grammar during Years 9 – 12. A competitive swimmer, James contributed a great deal to the culture and conviviality of the Boarding Houses during his time there. James is currently studying a Bachelor of Applied Science (Property and Valuation) at RMIT.
James presented a reflection on his time at the School at the 2021 Valedictory Dinner. Here is an excerpt from that speech.
My journey at Melbourne Grammar almost didn't happen! When I was offered a place at the School in July 2017, initially I said no. I was very comfortable with my life in my hometown of Bendigo. I had a solid and caring friendship group, a strong affiliation with my swimming club and a loving family.
As a 14-year-old, I wasn't sold on the idea of moving to Melbourne Grammar and joining the boarding house and leaving all the comforts of home. But despite the doubts and worries that I had, I changed my mind and made the decision to seize the opportunity that my parents had afforded me. I told mum and dad that I would "give it a crack".
During an interview in 2017 with the then Head of Senior School, Nick Evans, we talked about a number of things that he believed I would experience during my time at the School. The first of his point was that I would make lifelong friends, especially in the Boarding House – he was spot on.
The second point was that I would be challenged and become academically competitive, and he was right. The third was that I would be learning alongside some of the brightest kids in the country and, oh boy, was he right there!
There were, however, two things that he did get wrong. Firstly, the quickest way to the Boarding House and gym is NOT via the science building pathway, but it is instead via the throughfare straight across the precious main oval. Secondly, he assured me that I would learn to love homework and studying, however this concept still remains very questionable to me.
At my previous school, I put a great deal of effort into avoiding certain maths topics such as simultaneous equations and graphing. My avoidance tactics relating to these maths topics paid off in Years 7 and 8.
However, I became unstuck on the first day of Year 9 at Melbourne Grammar when I found myself sitting in the back of the classroom wondering what that strange combination of letters and numbers were that were being written on the whiteboard. This can probably explain my rapid descent down the maths rankings from division 7, to 9 to 11 all within a matter of weeks!
Fortunately for me, the devoted Melbourne Grammar teachers got me back on track. For anyone wondering how things turned out, I can report that I did undertake the prestigious Further Maths course, however whether I get a study score of 25, remains to be seen. Here's hoping!
Some highlights of my time at the school have included Beyond the Gates, swimming in front of a packed MSAC grandstand at APS Finals Night, cheering and chanting … at events such as the Cordner Eggleston Cup and Athletics Carnivals, trying to get a tan (but mostly getting sunburnt) on the Boarding House balcony, and the late night chats in a random room with my fellow boarders. These are all memories which I will cherish forever.
I would now like to take the opportunity to say some thank yous.
Thank you to the School Council, Friends of Grammar, and the entire staff at Melbourne Grammar for your unwavering dedication and commitment to us; you have consistently gone above and beyond.
Thank you to Mr Guggenheimer, Mr Lochhead, Mrs Annan, and all the other boarding staff for making the Boarding House our home away from home, complete with homemade birthday cakes and Mr Brady's unofficial boarding house dog, Poppy.
To all the parents and guardians who have taken a boarder under your wing and generously given your time (and car seat) to get us to APS sport or other events. These acts of generosity are appreciated more than you might think, so thank you.
To my parents and my sister – the sacrifices you have made to allow me to attend this School have been enormous. I will be forever indebted to you for the childhood I have lived and the endless experiences and opportunities you have given me. My appreciation for all that you have done for me is immense. Hopefully one day I will be able to buy you that beach house.
To all the Year 12s, thank you for being a part of my journey at Melbourne Grammar. It's been a rollercoaster ride, but the friendships and memories I have made will last a lifetime. Good luck for the next phases of your lives beyond the bluestone.
I am going to end this reflection with a quote which I can probably guarantee has not been heard within the walls of this venue (the MCG) over the last 160 years. This quote is not from a world leader, politician, or philosopher, but rather by children's author, Dr Suess, in his book Oh, The Places You'll Go!
He says: "You have brains in your head. You have feet in your shoes. You can steer yourself any direction you choose. You're on your own. And you know what you know. And YOU are the one who'll decide where to go…"
Thank you.