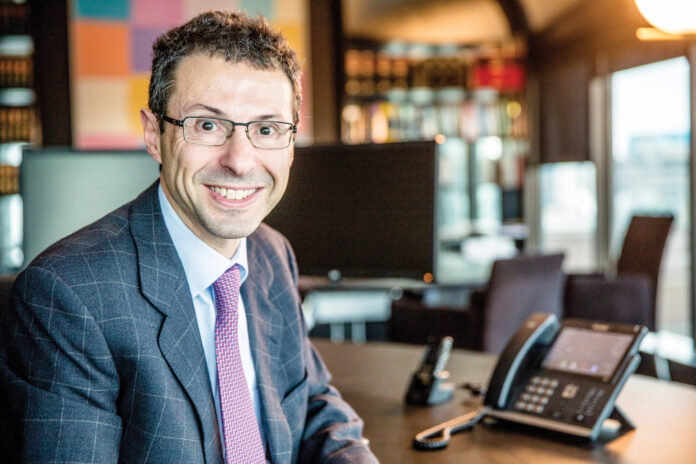 Philip Solomon QC (OM 1986) is one of Melbourne Grammar School's finest friends. He has dedicated his time, care, and fierce intellect towards the betterment of the School for many years and in many forms.
A past student and past parent, Philip stepped away from his roles as a member of the School Council and President of the Melbourne Grammar School Foundation at end 2021.
"I would like to acknowledge the outstanding service of Philip Solomon on behalf of the entire School community," says Chair of Council, Andrew Michelmore. "The impact of his leadership, his great loyalty to the School and his hard work will be felt by many – often unknowingly – for many years to come."
"Philip has been influential in moving the School forward in numerous ways," says Andrew. "However, arguably his finest achievements lie in the area of philanthropy of which Philip has been a steadfast supporter and leader for decades."
Philip joined the Foundation Board in 2009, becoming the Foundation President in 2017 – a position in which he excelled. Among his accomplishments, Philip played a key role in the successful fundraising campaign for the Geoff Handbury Science & Technology Hub and oversaw the significant growth of the Indigenous Student Bursary program. Philip led the introduction of important governance changes relating to the Foundation and proactively sought to create greater diversity on the Foundation Board as opportunities for new members arose.
Philip has been a member of School Council since 2014 and has served on numerous Council committees. Heavily involved with the Old Melburnians for many years, Philip was President of The Old Melburnians Council during 2011.
"Many students have already benefitted from Philip's service and his many and varied contributions to the School," says immediate past Chair of Council, Michael Bartlett. "I particularly appreciated Philip's invaluable contributions and support during my term as Chair of Council. He brought a powerful capacity for thought, great lucidity of communication and a lovely touch of humour to all his work for the School."
A generous donor, Philip had been a strong advocate for School community support of the School for many years prior to his Foundation Presidency. He established the Isidor Solomon Memorial Award in honour of his late father, who was also an Old Melburnian, in 2014. Philip remains a loyal member of the Witherby Tower Society.
Philip has also made two substantial gifts to the School Archives – one of his own School related photographs in 2016, and another of School memorabilia from the estate of his father in 2018.
We wish Philip well in his 'retirement'.