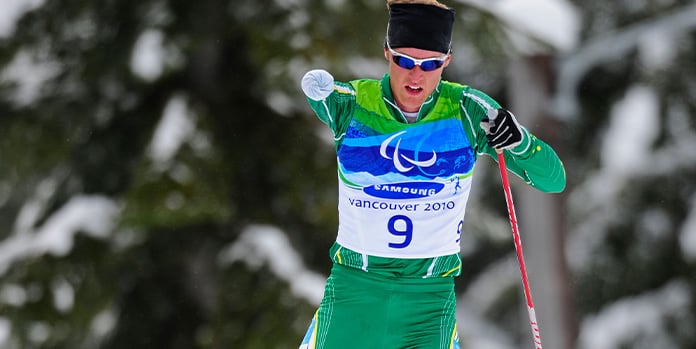 For dual Paralympian James Millar (OM 2003), achievement is just as much about small steps as it is big wins. Speaking at a Year 6 student leadership seminar late last year, James shared the passion he has for his sport, and the challenges he overcame to compete for his country.
"I was encouraged to be involved in lots of different sports at Melbourne Grammar, but eventually, when I woke up in the morning and could think of nothing other than skiing, I knew that was the sport for me," James said. "At my peak, I was training six days a week and travelling 300 days a year for my sport."
At the Torino 2006 Winter Paralympics, James was the first cross-country skiing competitor to represent Australia since the 1984 Winter Games. He won Gold at the 2009 Asia-Pacific Winter Games—a moment he describes as his biggest achievement—and then went on to compete at the Vancouver 2010 Paralympic Winter Games the next year.
"At Torino, I was Australia's first ever competitor in the biathlon, which involves completing a cross-country course and shooting targets between each circuit," James explains. "It's incredibly demanding because it combines the fitness you need for cross-country skiing with the ability to slow your heart rate and get steady enough to hit your target."
"My favourite event was probably the cross-country half marathon. It is a 21km race normally across mountains, so you are racing for quite some time – roughly one hour. Even though it is a competition, there is a lot of camaraderie when you are skiing with a large group of people for a large period of time."
Setbacks, frustrations and triumphs
James told Grimwade House students that the training he undertook to represent Australia internationally was one of the hardest tests he has ever faced.
"When you are working towards international competition, one of the biggest challenges you have to overcome, both physically and mentally, is perseverance," James said. "It's okay to be frustrated, but then it's about looking to take small steps to achieve your goals."
"Sometimes it's hard to have a goal that's so far ahead of you, like recovering from a really bad injury, which I experienced when I broke my back in 2007," James added. "But even then, it's those small steps that will take you in the right direction."
Retiring from competitive racing after the Vancouver Games, James donated his extensive collection of skis to support other athletes' Paralympic dreams. "I owned about 35 pairs of skis and gave a lot of them to junior athletes," he explained. "I knew they'd be able to use them to reach their goals."


James's advice about what it takes to be an elite sportsperson
100% commitment (99% is not enough)
Grit to overcome both physical and mental challenges
The ability to accept frustration
Small, consistent steps in the right direction