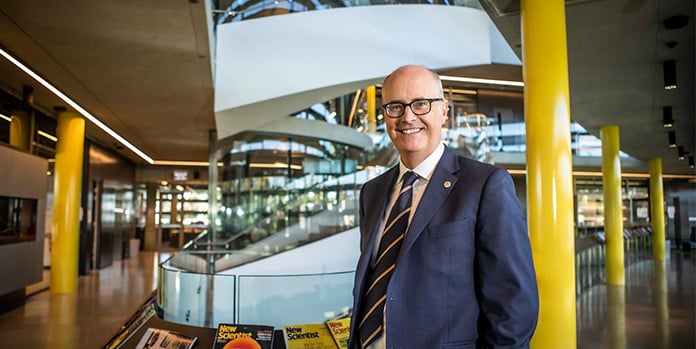 Professor Julian Smith (OM 1975) commenced in the role of President of the Melbourne Grammar School Foundation this year. He entered the School as a Year 1 student and now counts four generations of Old Melburnians among his family members.
A past parent, Julian has been a member of the School Council and various Council sub-committees since 2019, as well as a member of the Foundation Board since 2021.
In his professional life, Julian is one of Australia's most esteemed cardiothoracic surgeons. His positions include Head of Monash University's Department of Surgery and Head of the Department of Cardiothoracic Surgery at Monash Health.
Julian is a Fellow of the Royal Australasian College of Surgeons as well as the American College of Surgeons, the Cardiac Society of Australia and New Zealand, and the Australian Institute of Company Directors.
Here, Julian tells us a little more about himself.
What is the most rewarding aspect of your role as a cardiothoracic surgeon?
I think it's the satisfaction I feel when patients do well as a result of the surgical care that they've received. Our work involves improving a person's quality of life, whether for people who are very sick, or those who may have minimal problems now but need to be treated to prevent bigger problems in the future.
What are you most looking forward to as President of the Melbourne Grammar School Foundation?
I'm looking forward to helping deliver the School's strategy to provide the best opportunities for current and future students. In particular, I'm excited to be working with the highly motivated and skilled members of the Foundation Board. I'm also keen to assist with encouraging diversity throughout the School community, and fostering the strength this brings to the culture of our School.
You are a busy person. Why take on this new role?
I love working with energetic, passionate, and creative people towards a common goal. Alongside this, my motivation is to give back to a School which has provided great opportunity for myself, my son and many of my relatives. It's here I gained the education that has defined my life's path, and where I learned the value of service and leadership.
What else do you particularly enjoy in your life?
Apart from spending time with my wife, Sally, and my children, Madeleine, Charlotte, Fraser, and Imogen, I am a keen golfer. You can often find me on a golf course somewhere in Melbourne's Sandbelt or on the Mornington Peninsula. I love being in the outdoors and enjoy the challenge of improving my game. I'm also a keen observer of professional golf and I travel to see tournaments overseas when I can.
What is your fondest memory of your time as a student at Melbourne Grammar?
The student camaraderie and my experiences in Bromby House stand out to me. I really enjoyed bringing the boys together when I served as House Captain, and I felt there was a strong sense of purpose for the House as an entity.
I also enjoyed the many outdoor activities, particularly as a member of the 8th Prahran Scout Group which was run through the School at the time. We went on regular camping expeditions around Victoria and took part in a broad range of community service activities.
Julian takes up the mantle of President of the Melbourne Grammar School Foundation after five years of outstanding service in the role by Philip Solomon QC (OM 1986). Philip stepped away from the Presidency at end 2021. You can read more about the many contributions Philip has made to the School here.