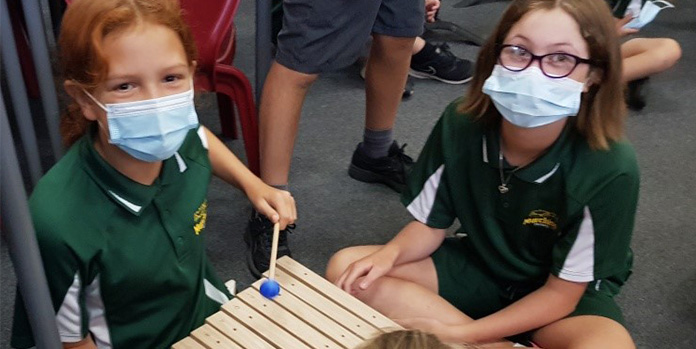 For last year's VCE Product Design students, fulfilling the course requirements meant listening to some extremely young clients with big ideas.
Led by Senior School Head of Design and Technology Claire Garnham, our students worked on a project to create a set of marimbas—wooden musical instruments that function much like xylophones—for students in Years 4 and 5 at Murchison Primary School, near Shepparton. The project involved everything from gathering a client brief to manufacturing the instruments themselves.
A project with meaning
"I wanted to present a situation to my students that pushed them to think about designing for others' needs, and the link with Murchison offered exactly that challenge," Claire explains. "Projects like these become meaningful when design students have a real client to work for and a real goal in mind."
"To be successful, the students had to listen closely to the Murchison students and take on board exactly what was needed," Claire adds. "We knew the young students loved music, and that the primary school didn't have a huge amount of storage, so we needed to make something small and portable. From a product design point of view, this is exactly how a project comes together in the industry."  
Having gathered their brief from Murchison via videoconference, our students set to work building the marimbas using hardwood. To create the right pitch for each note of the instrument, the curve of the wood had to be carved and sanded to an exact depth.
"Creating something like this, the students get a real sense of how design and manufacture actually works," Claire says. "They're having fun, and they're also learning to design around someone else's constraints." 
A real-life design challenge
"A project like this exposes our students to different opportunities and different ways of seeing the world," explains Karen Goodwin, Principal of Murchison Primary School. "It really opened their minds up to what's possible in their future."
"I think for the Melbourne Grammar students this was also an opportunity to see that there's another life out there," Karen adds. "A collaboration like this is about building awareness on both sides, so it was really satisfying to see lots of questions going back and forth."
The marimbas have now been safely delivered, and Murchison students are clearly pleased with the results. "The kids love what the Melbourne Grammar students have done for them," says Karen. "This is only our third year running music at the school. I believe it's vital in building not only emotional intelligence, but also resilience as students approach new skills. The marimbas make a great contribution to our program."