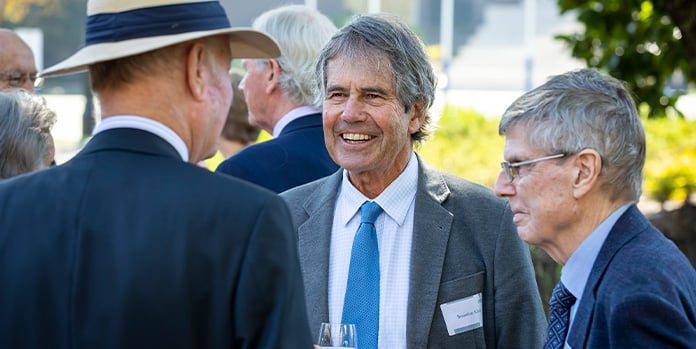 In February 2020, invitations for the Witherby Tower Society 25th anniversary luncheon were sent and accepted. Speeches were written and the catering was ready to go. People were looking forward to coming together in celebration of the milestone. That is, until COVID restrictions caused the event to be postponed.
Finally, two years on, members of the Society were able to meet and recognise the significant impact members of the Society have had over the past 27 years.
Founded to honour individuals who have remembered the School in their Will, more than 250 Old Melburnians, parents, friends, and staff have joined the Witherby Tower Society to date. The number grows each year.
The support of the Witherby Tower Society is significant. Historically, some of the largest and most meaningful gifts in the School's history have come in the form of bequests.
Speaking at the event, Headmaster Philip Grutzner (OM 1981) highlighted how bequests will be just as crucial to the future of the School.
"I'd like to thank you for the support you have provided to make our School more financially secure," he said. "The Witherby Tower Society, and philanthropy more generally at Melbourne Grammar, has always been about building a better future for our students."
Jim Cousins AO (OM 1961), Chair of the Witherby Tower Society Committee, thanked members for their generosity and recognised the leadership and vision of those involved in the Society's creation.
Thank you to Andrew Guy
Special recognition was given to Andrew Guy OAM (OM 1968) at the event. Andrew served as Chair of the Society committee from 2012 – 2020.
In speaking to this, former Chair of Council, Michael Bartlett (OM 1973), said: "The Witherby Tower Society experienced significant growth and prosperity under Andrew's leadership."
"During his tenure, Andrew led strategic new initiatives that challenged his Committee and the School's Development staff to think about philanthropy in new ways," Michael added.
A tradition of giving
Melbourne Grammar School received its first bequest in 1903. A gift from one of the School founders, George Rusden, it comprised a building on Punt Road, manuscripts, and funds. Since then, the School has continued to receive bequests from generous and forward-thinking people who have included a gift to the School in their Will.
In order to solidify the practices around bequests, a formal bequest program was introduced in 1953, and the Witherby Tower Society was established in 1995.
Over the years, bequests have helped broaden the diversity of our student body through the establishment of means tested scholarships, supported the development of our buildings and infrastructure, and facilitated the delivery of a world class education for our students.
For information about including a gift to the School in your Will, please contact:
Veronica (Roni) Baird
Program Manager – Bequests and Donor Relations
+61 3 9865 7632
[email protected]