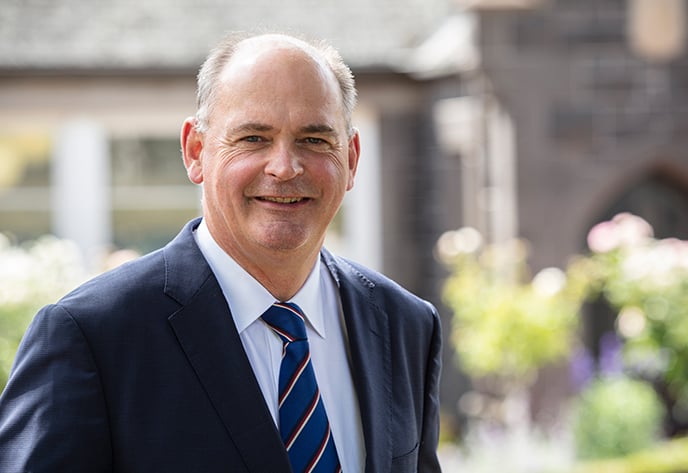 I am not sure of the probability of winning the lottery twice in a lifetime, but I do know that it is possible to win the lottery of life twice because that is what has happened to me.
The first time I won it was by being born in Australia, and the second time by being raised in a strong and loving family with parents who made enormous sacrifices to send me to Melbourne Grammar School.
I am grateful to call Australia home. We are the lucky country thanks to our natural resources, beauty, isolation, and wealth. Since WWII, until recent times we welcomed people from a large range of nationalities, ethnicities, and beliefs with great success. On the whole, these groups have brought with them a desire to succeed in their new country, and a richness of languages, religions, culture and cuisine.
However, we cannot be complacent, and more work is ahead of us as we address reconciliation, poverty and how our country can be respectful, prosperous, and developing in a time when the wider world is experiencing enormous change, challenge, and uncertainty.
I received a wonderful education at Melbourne Grammar School. I was gifted a life-long love of learning, and of literature, music, drama, and sport. Thanks to my introduction to bushwalking through the LGR Society, my wife Yasmine and I continue to embrace annual week-long walks all around Australia and overseas. I have made life-long friends and a strong set of values gained from divinity classes, Chapel, and the classroom.
Bringing about positive change
I am grateful for my time at Melbourne Grammar School, but sadly, school life in the late 1970's and early 1980's was not so positive for all. So much had to change, has since changed, and will continue to change.
The tyrant teacher days are over. Today I see high quality teaching and learning occurring based upon mutual respect, strong relationships, and a two-way dialogue. (You can read more about how social interactions are crucial to learning here.)
However, some aspects of our School remain constant. We will never stop pursuing excellence. Our Class of 2021 VCE results were excellent and typical of previous years; three students achieved the highest ATAR of 99.95, while half of the cohort received an ATAR above 90 and 11 percent above 99. We also acknowledge the diverse range of student abilities and backgrounds, with almost all aspiring towards and achieving their personal best, irrespective of the ATAR they achieved.
We were pleased to see our Year 12s enrol in a broad range of universities, locally and internationally in which they will undertake a wide range of courses leading to a diverse range of careers. (You can read more about the Class of 2021 VCE results here and their post-school destinations here.)
In 2022, sporting excellence still gets a lot of acclamation, but so does music, drama, the visual arts and debating. Indeed, we celebrate being the State A Grade Debating Champions for the past four years.
A diverse community
Much has happened on the reconciliation front. We acknowledge the traditional owners of our land at School events. Reconciliation Week is led by students, with the Indigenous flag hanging proudly from the Witherby Tower. The week also includes a reconciliation football round and various assemblies.
We currently have 13 indigenous students in our School. Indigenous student bursaries are highly sought after with more than 30 applications for the handful of places we offer each year and high expectations help produce high outcomes.
We welcome a broad range of nationalities and ethnicities that brings a richness of diversity, history and culture to our School. Around ten percent of Melbourne Grammar students are born overseas and they are drawn from 35 countries, with 31 different languages being spoken as a first language at home.
We welcome a diversity of religions to our School. As an Anglican school, we learn about Anglican history, culture, and traditions. Students also learn about, and to respect, other world religions, ask the hard questions and make informed choices. Whether it is Anglican, another religion, or none, we hope each student will choose to be a good person who wants to lead a good life.
We welcome amongst our students, staff, parents, and alumni a broad range of gender and sexual preferences and trust each finds our School to be welcoming, safe, inclusive and respectful.
As an Anglican school, we admire the work of Jesus, who was inclusive and welcoming. As a school Headmaster for the past 25 years, I know how hard the journey can be for those who are, or choose a path that is, not heterosexual. I am concerned about the increased mental health challenges and the discrimination the LGBQTIA+ community has faced. I have seen how vital the support and love from friends, peers, family and the School is to each person.
Thanks to the generous philanthropic support from our School community, we can provide scholarships and bursaries for students with exceptional talent, to assist those families without the financial means to afford our school fees. This helps support a broad socio-economic cross section in our student body.
We welcome a variety of thoughts, ideas, and opinions. We provide an environment that encourages debate, accepts differences and seeks knowledge, understanding and wisdom.
Philip Grutzner
Headmaster