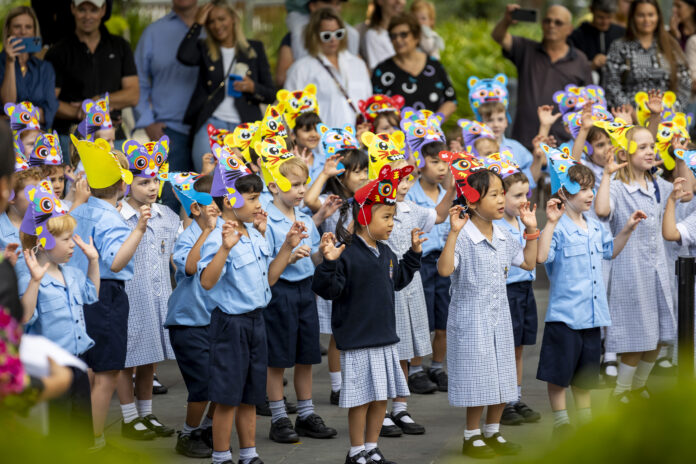 The gardens at the front of Harleston at Grimwade House came alive to the sights and sounds of a Chinese cultural celebration earlier this year. Marking the start of Victoria's Cultural Diversity Week in March, the 'pop-up' event included wonderful Chinese dancing and martial art demonstrations by students.
A Beijing Opera face transformation display drew gasps of amazement from the audience as the performers revealed a new 'face' with each flourish of their cape. Students, staff, and parents were all invited to participate in a Lunar New Year dance and, everyone's favourite, a Chinese lion captivated the crowd.
In addition, the Senior School's annual Celebration of Cultures Day was reinvigorated this year, after two years of 'hibernation' due to COVID-19.
Students had the opportunity to play traditional French, Chinese and Japanese games during the day. Latin verse enlivened the campus during recess and lunchtime, as did various cultural demonstrations including Japanese drumming and, again, a lion dance.
"Cultural celebrations of this kind are important because they place language students in closer proximity to the environment of the language being studied, and this assists their learning," says Megan McLaughlin, Acting Head of Languages. "This year, after two years of long periods of off-campus learning, they are even more so."
However, the lessons learned go beyond the language classroom. Speaking at the Senior School Assembly, Year 11 student, Jaden Taveira said: "Australia is one of the most culturally diverse nations, and our community here at Melbourne Grammar is a reflection of that multiculturalism. We are a community of many cultures, beliefs and backgrounds."
Jaden went on to highlight the opportunity these events provide for all students to both celebrate the multicultural nature of the Melbourne Grammar community and to become more cognisant and appreciative of world cultures other than their own.
"Today, on Celebration of Cultures Day, it is only fitting that we talk a little about culture, reflect on culture, think about what culture means to us, as individuals and as a community," Jaden said.
"I hope that stories of language and culture will continue to be shared in conversations at home and with friends well beyond the day of the events," added Megan.
Languages taught at Melbourne Grammar School
Grimwade House
– Chinese (Mandarin)
Wadhurst and Senior School
– Chinese (Mandarin)
– French
– Japanese
– Latin