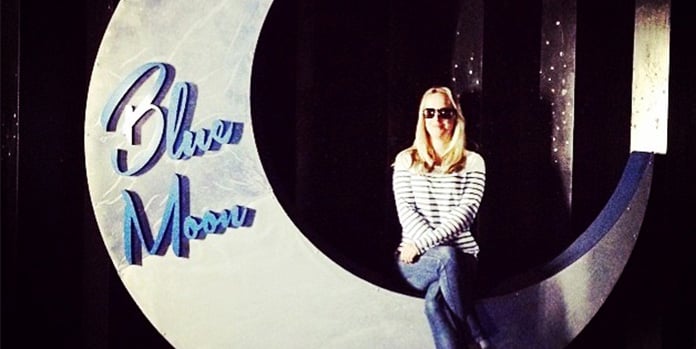 Organisation, pace and attention to detail are all essential for freelance set decorator, wife and mother of two, Anna de Meyrick (OM 1991), whether she's working on a new Australian TV series or the latest Marvel movie.
"I usually tell people my job is something like an interior designer, but for TV and film," Anna says. "The reality is I do everything from managing a team of buyers to sourcing the right light switches, or asking home owners for permission to paint their walls. The best part is when an actor walks on set and feels that their character is at home straightaway."
Why organisation is key to creativity
"Working on a film, even a small change can have a snowball effect on the production schedule," Anna says. "You have to be extremely organised and move very quickly to make sure everything goes to plan."
"Our team is so important to the process," Anna adds. "Personalities are a huge thing when you're working such long hours and making hundreds of quick decisions. You need to have a team around you who can have just a two-second conversation with in order to get something done."
With many productions migrating to Sydney during the COVID-19 pandemic, the past few years have been particularly busy for Anna. Her recent work has included two Marvel epics: Shang-Chi and the Legend of the Ten Rings and the upcoming Thor: Love and Thunder.
"For Shang-Chi we had to build an entire village from scratch with a river running through it," Anna says. "Working on a movie of that scale is a completely different kettle of fish, but what I love about my job is that every day is different. It's really fast-paced, so whatever's driving you crazy one day will be over in 24 hours' time."
Continued Grimwade House connections
After completing a Bachelor of Arts at RMIT, Anna spent time working in TV advertising in London where she realised her true passion was to be on the set herself. A chance conversation then led to a role managing catering for an independent film. From there, Anna has never stopped working in the film and TV industry. "Once you're in this world, you jump from job to job," she explains.
Having attended Grimwade House from Prep to Year 6, Anna says she is still connected to the boys and girls she went to school with. "I remember absolutely loving Grimwade, and part of me wishes I was still in Melbourne so my kids could go to school there," she says. "I felt there was a great sense of diversity and inclusiveness. Everyone encouraged us to do the best we could. I even remember making a fish for the Great Fish Fuse window, which my Grimwade friends who now have children at the School tell me is still there."
After a hectic few years, Anna is hoping to find some more time to focus on her husband and children.